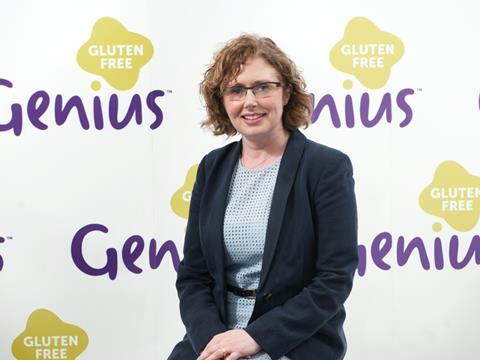 When Roz Cuschieri was appointed CEO of Genius Foods two and a half years ago, it had seven staff. Today it employs 432 and sells its products across the globe.
The explosive growth of the gluten-free bakery business - which turned over £41m last year - mirrors the rapid expansion of the market for which it has become a beacon brand. This year, Genius has rolled out a dozen new lines, is working with Asda to trial dual-siting its bread in free-from and mainstream fixtures, launched co-branded sandwiches in Tesco and expanded its export business - which already spanned Australia, the US and Spain - into France.
Snapshot:
Name: Roz Cuschieri
Place of birth: Liverpool, moved to Scotland when nine.
Family: Married with two children, a seven-year-old daughter and eight-year-old son.
Employment history: Joined United Biscuits on graduate sales programme. Moved to S&N to lead off-trade trade marketing team, before spending 12 years at Warburtons. Joined Genius Foods in January 2012.
Career highlight: Becoming CEO of Genius Foods.
Business mantra: To do the right thing when no one else is watching.
Business idol: Warren Buffett.
Hobbies: Singing
Favourite meal: It would have to be Italian - perhaps a very good monkfish with Parma ham.
Favourite musician: Anything from the 80s.
Genius has clearly benefited from the wealth of bakery market knowledge Cuschieri brought with her when she joined the company - her career includes 12 years at Warburtons, seven as commercial director.
"When I joined, Genius was an asset-light business," says Cuschieri, who within a year of her arrival was negotiating the £21m acquisition of two bakeries.
One of these bakeries is in Bathgate, a few miles west of Genius HQ in Edinburgh. Cuschieri clearly has special affection for Scotland, where she spent much of her childhood, and for its business culture. "For me, Scotland is about family and culture, but also about entrepreneurial businesses that are resolute in creating something quite special," she says.
Genius Foods fits that description perfectly. It was founded in 2009 by Lucinda Bruce-Gardyne, a former chef and teacher at Leiths School of Food and Wine who spent four years developing a fresh gluten-free bread after her son was diagnosed with coeliac disease."She is the part of Genius consumers identify with," says Cuschieri.
Manufacturing investment
Bruce-Gardyne remains a key member of the executive and is involved in product development. "Our desks are opposite each other," says Cuschieri. "But I don't see her every day as she's so busy in our bakeries."
Those bakeries are the two sites - Bathgate and one in Hull - that Genius took on when it acquired the gluten-free business of Finsbury Foods, which had been producing Genius products since launch. A key reason for the £21m acquisition last February - "a good deal for both parties," according to Cuschieri - was to speed up innovation and develop the brand. Genius has invested £2.5m in the sites, which between them employ just over 400 people. At Bathgate, which accounts for two-thirds of production, improvements have been made to the fabric of the building, while a pastry room has been created for lines including croissants and crumpets. In Hull, new kit has been installed to increase capacity and improve the quality of longer-life bread for the own-label market - business Genius took on with the acquisition.
"Free-from is a cluttered fixture - there is a lot we can do to make shopping it easier"
Given such activity, a recent investment of "millions of pounds" - Cuschieri declines to say exactly how much - by private-equity firm Verlinvest will prove useful. "Verlinvest is very keen to build the Genius brand on the global stage and we are delighted to have them on board," says Cuschieri. "They have been hugely helpful in developing our international business."
Cuschieri is excited for the future of Genius, and of the category. "Gluten free is still very much in its infancy, and everyone still has much to learn, but this is not a fad," she says. "Coeliac diagnosis is a fact, and the population is increasingly understanding that gluten makes some people really unwell." New consumers are entering the market all the time, she says, adding that increased penetration is the key driver of market growth. (Total free-from penetration is currently 55.2%, according to Kantar data to 21 April 2014.)
"More space is being given to free from across the board and how that space is organised will become increasingly important," she says. "We invest heavily in our category team and category data in supporting our retailers. It is a cluttered fixture and there is a lot we can do to make the shopping experience easier."
Asda is trialling dual-siting Genius in the bread fixture, something Cuschieri would like to see all retailers adopt - although she believes there will also be a role for the dedicated free-from aisle for some time to come. With free-from products typically selling more slowly than standard baked goods, waste is a concern, and Cuschieri says the trade's understanding of stock turnaround and of NPD has improved as the category is maturing. "It's an area we look to manage with retailers," she adds.
Pies
Retail and consumer demand has also driven a steady flow of NPD, with 12 new products coming to market this year, and Cuschieri wants to ensure there is a Genius product "for every meal occasion." This has included extending into pies, with Yorkshire-based Chapel Foods producing two frozen products using Genius pastry.
Cuschieri is keen to take Genius into other categories, and is considering working with other third-party suppliers to do so. "In the case of Chapel Foods, we choose to work with experts as we are not expert pie makers," she adds. With interest in free from soaring in the UK, so has competition, although Cuschieri says this is healthy and "great news" for the category and consumers. "What is important is for us to continue to innovate and add to our distribution," she says. "We are the major brand in the category and are exclusively gluten free, which is really important to consumers."
Looking to the future, Cuschieri sees big opportunities to grow through convenience, food to go and foodservice. And although she sees overseas sales as a big part of Genius' future, Cuschieri says the UK will remain the heartland of the brand.
She also looks forward to continuing to make a difference to people: "I remember a mum who said we had allowed her daughter to go into school with a normal lunchbox - and that she was no longer being bullied as a result. Being able to change lives in such a way is incredible."