Women in fmcg must be bold for change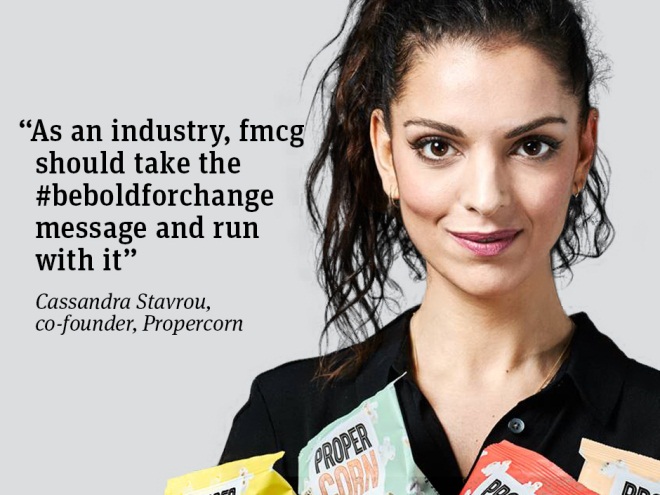 This week marked International Women's Day, a time for reflection and action, not tokenism. It is also an opportunity to celebrate those who advocate an end to deep-seated and historical bias towards men. In 2016, we saw real progress in the public and private sector, across industries as diverse as tech and manufacturing and in our new PM and Met Police Commissioner.
A glance at the top jobs at global brands such as IBM, Kraft Heinz and PepsiCo reveals women in high-profile CEO or chair positions. Young women are finding role models in business, thriving off success stories that show the boardroom is not the sole terrain of men: it can be done, when decades ago it remained almost completely out of reach. The days of the exclusively all male, suit and tie board room, are gladly behind us.
Recently, a global study by Egon Zehnder found progress in 36 out of 44 countries. Eighty-four per cent of big company boards worldwide had a female member in 2016, up from 77% the previous year. But we are not out of the woods yet. Things even went into reverse in the UK – new female board hires dropped. Women also remain half as likely to start their own business, and just 7% of CEOs in the FTSE 100 are female.
How does this compare to our world of fmcg? Are we pulling our weight? Sadly, the numbers do not reveal a significant or lasting shift. The Grocer's Power List celebrates just 12 female leaders, thinkers and agitators out of 100 shaping grocery.
Yet the future does seem brighter. Crucially, over half of The Grocer's Top New Talent of 2016 are female. So, while lists and statistics point to encouraging changes in attitude, as an industry we need to be bold in how we address these engrained structural problems, finding solutions that will ensure women flourish and become tomorrow's managers, board members and CEOs.
Our actions have to be brave. That's why I am glad this year's IWD theme is #beboldforchange. Simply relying on quotas is not good enough. It means change will only ever be superficial.
Whitbread CEO Alison Brittain is rightly hesitant, questioning how this tokenistic approach – of systematically filling boards with female non-execs, for example – will help. She is correct that it will in fact lead to a dearth of full-time women angling for top CEO positions. Why?
Out of the boardroom, businesses need to show ingenuity and empathy to ensure working culture is rooted in equality and fairness. This means going beyond directives that still treat gender parity as a hands-off, arms-length issue. Line managers need to be aware of the challenges that women still face, whether that is a lack of confidence, deficits in leadership qualities or the quandary of balancing careers and motherhood.
At Propercorn, where we're just five years old, our culture is rooted in inclusivity. Seventy per cent of our workforce is female and our hires have been made on merit, shaped through the prism of a brand that lets our staff feel open, included and unshackled. Our board also has two women.
As an industry, we should take this #beboldforchange message and run with it. There really is nothing to lose. For so long, women faced naysayers that peddled the antiquated myth that inequality in business was just 'the way things are'. But with the likes of Whitbread's Alison Brittain and Spar's Debbie Robinson leading by example and setting a new precedent in fmcg, this ludicrous notion has been roundly disproved.
Yes, women can leave careers to become full time mothers. That's just fine. But all business leaders must continue their mission to provide a fair playing field. Not so we can patronise or mollycoddle, but to unleash potential, inspire ideas and drive our industry forward. To paraphrase the great Mary Shelley: it's not so women can have power over men, but over themselves. That means being flexible, compassionate and innovative in how we approach equality in the workplace. Otherwise we are all selling our businesses short, and it is our businesses that will suffer most
Cassandra Stavrou is co-founder of Propercorn