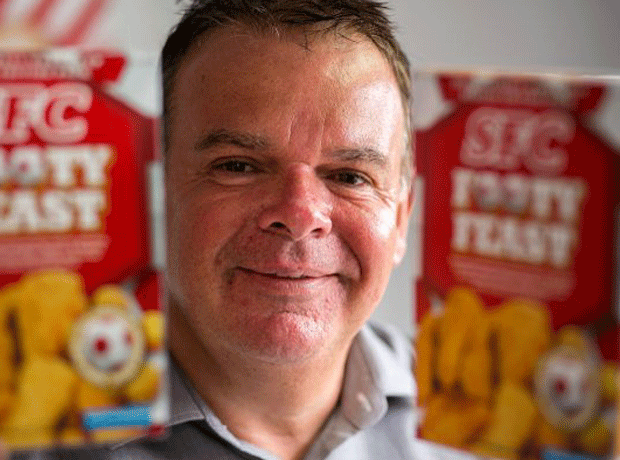 It's got distinctive red and white packaging, fans refer to it by a three-letter acronym and it shifts bucketloads of variety boxes a year. But this isn't the famous high-street fast-food outlet that sells the colonel's secret recipe. This is SFC - Southern Fried Chicken - from Southport, Merseyside.

Its colonel-in-chief is MD Tony Nuttall, who over the past six years has helped build SFC into a £20m turnover business, selling frozen oven-cook and microwaveable chicken through the multiples. Now Nuttall is about to kickstart the next phase of the company's growth strategy via a major brand licensing deal and overseas expansion. But given the rise of me-too own-label brands, what are the chances of SFC's new range finding favour with the mults?

After starting his grocery career as a buyer at Booths and The Co-op, Nuttall joined Grampian Foods in 1993, where he worked in sales until to 2007 (the year before it was bought by Vion). During his 14 years there, he secured a deal to supply KFC and saw first-hand the tremendous growth the fast-food brand was enjoying.
"You present it and if it doesn't work you go back to the drawing board"

Tony Nuttall
He suspected there was an opportunity for a KFC-style product in retail, so he bought into SFC - a blossoming foodservice business that at the time had no retail offer. His first task after joining SFC in 2007 was to prepare it for its new retail surroundings. "We jigged around with the SFC brand to make it look very similar to another brand," he admits freely. "Then we started making products similar to those available in high-street restaurants."

Listings with all the mults rapidly followed and within three years SFC was generating sales of £20m, twice making it into The Sunday Times Fast Track top 50. Much of this growth has been fuelled by the company's quickfire approach to NPD, which has recently seen it develop snacking products and a food-to-go range. "We're quite good at setting up a new product very quickly," says Nuttall. "We have about 30 different lines that are rolling lines. We take some out, we revamp some and add new ideas. You present it and if it doesn't work you go back to the drawing board."

SFC's next big piece of NPD is a tie-up with The Simpsons. Next month, it's launching two Simpsons products under licence from brand owner Fox - a chicken donut featuring Homer Simpson on pack and chicken nuggets starring Bart Simpson. "Kids love the Simpsons and what we're making is something that will really catch their eye - it's a beautiful product."

If it is a success, the next step will be to roll it out to Europe. SFC has already secured listings for other products with retailers in Spain and France, and has just opened an office in Hong Kong through a partnership with a domestic operator. Next month, it's opening an office in Australia to cash in on the growth of KFC there. The ultimate goal is America. "We've got a good idea about how to work it. However, we can't hit it for at least 18 months because we've got so much on."

Closer to home, Nuttall believes there's a good opportunity for pub chains to use SFC products and branding on their menus. He's also holding discussions with airline operators about stocking SFC's handheld products. Although the rise of own label has made things tougher, Nuttall remains upbeat. "It is very hard to get in with the retailers at the moment, but we'll keep on - we won't stop."

After all, Southern Fried Chicken's sales wouldn't keep heading north if they did.