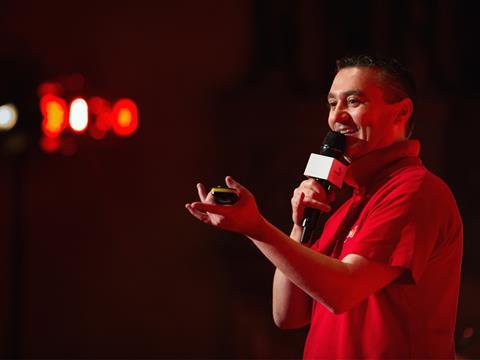 snapshot
Who: Stuart MacFarlane, president, Europe, AB InBev.
Age: 47 Lives: Waterloo, south of Brussels
Status: married, Loretta
Hobbies: Football - Newcastle United. Collecting sports memorabilia
Movie: Top Gun. Every leader needs a wingman
Meal: Indian
Tipple: Leffe Blonde for aperitif; Stella with my Indian
New year's resolution: find more time to say 'thank you' and 'well done'
Stuart MacFarlane has gone far. He built his reputation in the UK on the launch of Stella Cidre, coupled with his genial but highly effective management of AB InBev's portfolio of best-selling premium lagers (Stella, Bud, Beck's). It got him noticed.
In 2010, MacFarlane moved to Moscow to run Eastern Europe. And after navigating hostile regulatory and climate conditions in this vast and complex market - and turning Budweiser into Russia's number-four premium brand from a standing start - MacFarlane received a further promotion at the start of 2014, based out of AB InBev's HQ in Brussels, and is now running the whole of Europe, including the UK and Ireland.
"It's a dream job for a little guy from Motherwell. I have to pinch myself," he says. Controlling 23 countries, from Scotland to Siberia, across 15 time zones, and with responsibility for some 16,000 employees, his is a hectic schedule. Yesterday he was in the Netherlands. Today is the UK. Then he's off to Russia and Ukraine. And that's the way he likes it. "If I spend too much time in the office, I've lost the plot. I'm not seeing what's happening in the street. It's an important part of my personality."
It's not just customers or direct reports he's connecting with, either. "I learn as much from talking to cleaners and receptionists as my leaders," he claims.
So, one year into his new role, what's he been up to? How has he changed things? And what are his plans?
His job is not only to listen, he says. It's to talk. And MacFarlane is good at talking. "I spend my time on three things: talking about today (tracking and monitoring); talking about tomorrow; and talking to my people. When you get to my level you become a people leader. I actually don't do anything. I believe the best leaders are those who can set direction, allocate resource and make quick decisions. I can constipate the business if I'm not moving the machine forward."
"This is the only country where Stella, Budweiser and Corona operate at scale. So we are really looking forward to getting it back"
So how is the machine? It's an extremely challenging environment, he says. "The alcohol industry in Europe has been in decline by about 2% per annum for the past four or five years. It's been driven by regulation, an ageing population, and a consumer trend towards wellbeing - particularly among younger people. They are drinking less, and looking for functional drinks, and healthier options."
Nowhere has the regulatory environment been more challenging than in his old stomping ground in Russia. The latest industry figures show beer sales down 12%. "Excise taxation has totalled 300% in five years, sales from kiosks were banned almost overnight, as was advertising. It's been a perfect storm."
MacFarlane's response has been to switch focus. "The total industry is in decline, but premium is in growth. We have deliberately changed from investing in value to core plus and premium. So we're losing share in value but improving profitability."
Premiumisation is not limited to Russia, however. "Premium and super premium is growing almost everywhere. Bud in Russia. Beck's in Germany. Franziskaner in Germany. Corona in Spain and Italy. People are drinking less but better. It's the volume evolution. Europe accounts for 3% of global population but 30% of consumer spending power. So the way to grow in Europe is through premiumisation, and that's also very consistent with a responsibility agenda."
The masterplan isn't purely about premiumisation, though. There are three other levers. The first he calls speciality. "Craft comes with connotations of smallness equating to beauty. I call it speciality because it can still be at scale. In France, for example, Leffe is growing double digits. It's our number-one country for Leffe globally, a million hectolitres."
The second is non-alcoholic/low alcohol beers. "It fits well with wellbeing. If you go to Spain it's growing 15%; in Germany it's 20%. Franziskaner is planning a non-alcohol wheat beer in Germany. And we are currently developing other solutions. I would put Radlers in here, too, like Beck's Green Lemon. This whole area is something the industry has to get better at."
The other growth opportunity is fruity/fusion. MacFarlane cites the success of Stella Cidre Raspberry last summer as an example, and claims it was the most successful drinks brand innovation in UK in 2014. "Fruitiness and flavours is a trend we will exploit across a number of brands. We have new flavours like Beck's Holunder (elderflower); a citrus mix in Russia; a ruby mix in Leffe. Cubanisto in France and UK. It's year one of a three-year plan. It's ahead of plan."
It's not just megatrends that are driving the strategy. MacFarlane has also restructured his European business units based on the growth characteristics of each country. One of the new business units, FRITS (or France, Italy, Spain) is characterised as "ex-wine, but becoming more beer." Here, Corona is AB InBev's key brand, and a lot of work has been going on in those countries to position it as a beach brand, via a campaign called Corona Sunsets. With AB InBev taking back distribution of Corona in the UK from this month, MacFarlane is excited by the opportunities to make it fit with the other brands.
"The UK is our flagship country in Europe, the only country where Corona, Budweiser and Stella are at scale. So we are really looking forward to getting it back. Judge us in two to three years if we can scale it further." In the meantime, he's pleased with progress in the UK. "It's been a very good year for Bud, and Stella is back in growth in the on trade, and still growing in the off trade." He's also signed two major global sponsorship deals with Wimbledon and the British Golf Open.
But there's one area in which MacFarlane expresses dissatisfaction, and that's NPD. "Within beer and cider we used to be the benchmark for innovation, and have now lost that, but we'll get it back, because we don't want to be out-innovated." He's brought in a new UK & Ireland president, Steve McAllister, to deliver it.
But he also recognises that if the UK business is in a healthier position then when he left, his biggest off-trade customers are not. "The UK retailing landscape has changed. The discounters have stepped up. For the long term, it might be a healthy development, because it might push them to innovate more. But we need to help them differentiate. As branded suppliers, we have to look in the mirror and say 'what is our response?'"