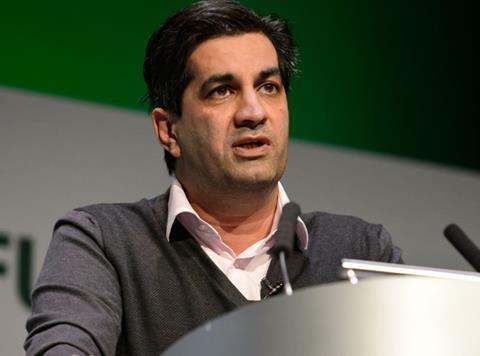 Farmers should see supermarkets not as a problem but "the solution", Ranjit Singh Boparan has said.
The CEO of 2 Sisters Food Group – who took part in a panel debate at this week's National Farmers Union conference – told farmers the major retailers offered unrivalled access to consumers. "You shouldn't see retailers as a problem – they are the solution," he said.
Singh stressed the importance of collaboration across the supply chain, outlining 2 Sisters' model of achieving vertical integration through partnerships. "We have vertical integration, which isn't just about ownership but also partnerships. You don't have to own the whole supply chain."
Asked about how relationships between retailers and suppliers had changed as a result of the Groceries Code Adjudicator, Singh insisted it was "business as usual". Suppliers like 2 Sisters had "established paths" to deal with any issues, and retailers already offered arbitration routes, he said, adding: "We don't always agree – we sometimes agree to disagree – but that's how partnerships work."
At a product level, he stressed the importance of consistency to farmers, saying that farmers needed to make sure the meat they produced offered a consistent quality.
He also suggested the industry needed to make more of the "British" brand in promoting UK-produced food, citing New Zealand as a good role model. "We talk about all these different certifications, but actually the strongest brand is 'British'," he said. "Why can't we do with British what New Zealand has done? We need to start treating 'British' as a brand – and that's everybody's job."
Singh rarely makes public appearances and joined the NFU panel debate as a last-minute replacement for The Co-op's Michael Fletcher. During the debate – which also featured Tesco's Kevin Grace and Martyn Jones of Morrisons as well as Defra minister George Eustice – he also urged farmers to be patient on supermarket meat sourcing and not to expect retailers to be able to switch to 100% British across the board overnight.
For more on Singh's message to farmers – and his account of how 2 Sisters helped Tesco move to 100% British chicken – see this week's edition of The Grocer.