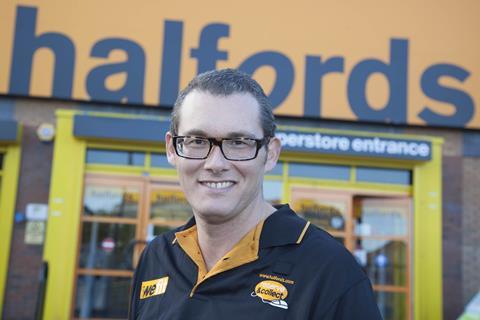 Halfords chief executive Matt Davies will take up the challenge of overseeing Tesco's business across the UK and Ireland in June. He succeeds Chris Bush, who left the supermarket for good in December as investigations continued into the £263m black hole in its accounts. But who is Davies and why did CEO Dave Lewis convince him to get off the saddle at Halfords to take up the mammoth challenge of reviving the fortunes of Tesco?
For starters he has considerable form at stepping into a challenging environment and succeeding in turning around an ailing business. Indeed, the fact that shares in Halfords plunged by 7% this morning following the news gives some indication of how well liked and respected he was at the chain.
"Halfords was a very damaged business before his appointment," according to N+1 Singer analyst Matthew McEachran. "Staff morale was very low, career opportunities were perceived to be very limited and customer service was diabolical, quite frankly."
Previous Halfords boss David Wild resigned from the role in July 2012 following a run of poor trading as sales fell and the company issued a profit warning. Davies took over in October 2012 as the bike and car parts chain started to see the benefits of a cycling fever which gripped the UK following the victories of Bradley Wiggins and Mark Cavendish in the Tour de France and Team GB in the velodrome at the London Olympics.
He promised to help Halfords achieve its full potential in the upcoming years and in May 2013 a three-year growth strategy to boost profitability was launched. The £100m investment programme – called 'Getting Into Gear' – had the aim of delivering sustainable profit growth over the medium term.
By May of the following year Davies announced the retailer was well on the way to its 2016 turnover target of £1bn after hiking sales by almost £70m thanks to a strong year for its cycling offering. Group revenue for the year to 28 March 2014 was £939.7m, compared with £871.3m in the previous 12 months – a 7.9 per cent change and 6.5 per cent on a like-for-like basis. Its autocentres contributed £136.6m, up from £125.8m, but the big boost came from retail which increased from £745.5m to £803.1m.
He continued his commitment to become a specialist cycling retailer in June with the acquisition of cycling brands Boardman Bikes and Boardman International, founded by one of Britain's most famous cyclists Chris Boardman. That commitment paid off as Halfords revealed in November that sales had surpassed £500m during the first half to 26 September 2014 giving pre-tax profits a double-digit push to almost £50m.
McEachran added: "At the moment Tesco appears to be adopting a strategy that is very heavily lead toward price. At the end of the day price is very important for supermarkets, but ultimately service, range and availability also counts.
"Discounters don't have to worry about customer service as much as the traditional superstores, but Tesco is not aiming to be a discounter so therefore part of the problem isn't just about price and that is actually why Matt Davies is an interesting fit. He has a very good track record when it comes to formulating a plan which drives not just price.
"All the other key aspects of retailing beyond price like stock availability, service, store environment etc had fallen behind. Matt has gone in and executed a plan which is addressing those things very clearly. If you buy into that – him having success on that front – then all those skills would lend themselves very well to dealing with the aspects beyond price and the significant problems at Tesco.
"He is also very personable as well; he is very good with people. I get the impression with Tesco that with its huge number of problems he will need to get the team behind him. Although it is a very different proposition from Halfords, he does have those characteristics which will help with that."
Davies was previously at the helm of retail chain Pets At Home for eight years until April 2012, joining as finance director in 2001. Prior to that he was a finance director at Caudwell Communications and also worked at NatWest Markets and NM Rothschild as a corporate finance adviser.
During his time as CEO at Pets At Home, he built the business from a group of 140 stores into a speciality retailer with more than 300 shops.
He is also a non-executive director at Leicester-based Dunelm Group.