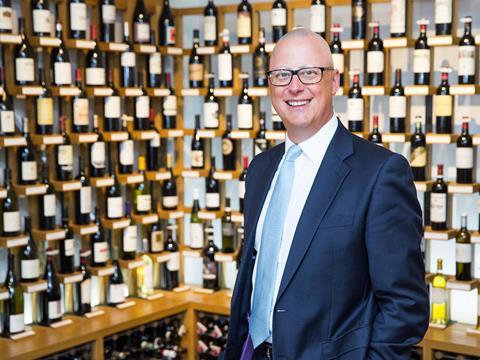 Beauty comes in many forms. At Berry Brothers & Rudd it comes in the shape of a shop smothered in thick slicks of black-green gloss, topped with a grapevine fringe, where every wrinkle of the last 320 years shows up in the best possible way. But it's what's inside that will make you fall in love.

This is the land of Pomerol, Pauillac and Petrus, of oil paintings, rich mahogany and soft leather, where the exiled Napoleon III held secret meetings in the same cellars which now hold the secrets of bottles that may never be opened. This is not your average offie.

It's why I have walked past the shop many times but never wandered in, fearful I couldn't afford to buy anything, yet equally fearful that once through the doors I might feel obliged to buy something anyway, in that peculiarly British way.

"I'll let you in on a secret… and I don't think I have ever told anybody this before," says CEO Dan Jago. "Until I started work here I had never stepped through the front door of this shop."

Why? "For exactly the same reason. It felt a bit intimidating. It was a bit smart. It felt like you've got to be a different kind of person to go in there. And I have been in the wine business for 35 years. I knew people who worked here, but I still never walked in. And that is something we are addressing."
Snapshot
Age: 56
Status: Married, two girls, aged 21 and 23
Red or white? White for refreshment, red for the brain and the complexity
Which of the big four has the best wine? None of them are doing as much as they could if they really took wine seriously. I am biased, so if you look at the quality of the people and the resource behind it, Tesco still has the best. I embedded a culture that says 'We do this seriously'
How about the discounters? They have realised wine is an extremely effective tool in influencing customer behaviour. I admire the way they have gone around trying to win the market. But doing it entirely on price is a loser's game. It's easy to be successful being inexpensive. Their wines are well sourced and they care a lot about them but they are investing in doing that rather than doing it sustainably and in a deliverable way
Would you rather reverse Trump or Brexit? Trump. It's more dangerous in a geopolitical sense. And I think, if we have to, we will make Brexit work. Trump represents many of the things I find morally repugnant. And I find the lack of experience in a very complicated job worrying
Last good book? Adventures on the Wine Route by Kermit Lynch. It's beautifully written, it's amazing
Last good film? Kingsman - I love it. Incredibly clever, funny, sharp and witty. Layers of stupidity, subtlety and complexity
Favourite wine region? It's not the region, it's who you are drinking it with, the moment and the environment you are in
Death row meal? White truffle risotto with a glass of Barolo. Then roast chicken with nine different vegetables with a lovely claret. And a small glass of King's Ginger to finish
It's one of a long list of things Jago has been addressing since his arrival in October 2015 after eight years at Tesco, rising to group wine director. "I got a call from chairman Simon Berry and as soon as he said 'Berry Brothers & Rudd' my brain went click. The family decided they needed someone who could get the business back on an even keel, but was also passionate about the product. And sometimes it requires someone completely new, who isn't embedded in what's gone before, to come in and do it differently."

Objective action was deemed necessary after the business lurched to pre-tax losses of £7.3m in 2013, £5.6m in 2014 and £11.3m in 2015. By 2016, once Jago had bedded in, the figures had sobered up remarkably well considering the state they were in before. A loss of £640k looked positively perky. So how long before profitability returns?

Jago looks at his watch. "We are profitable already. We will see a very good set of results in June, I already know what they will be. When I arrived we said in year one we wanted to break even, and we did better than that. In terms of operating profitability I was set some pretty ambitious views of what the family would like to achieve, and we will beat those this year."
Simplicity
What's changed? "There are two principal differences. We are outward looking now, not inward looking. We are excited about new customers and doing a better job with the customers we have."

"Culturally we have moved from a series of autonomous business units, each of which had created its own little empires, and brought it back to basics. We are Berry Brothers & Rudd, a wine & spirit merchant based in London with 320 years of heritage and history, and with three distinct groups of customers: private clients (which account for just over half the business; on and off-trade which accounts for a further 30%; and international trade, which makes up the remainder). The simplicity of that has been extraordinary."

Simple in theory, but the second part sounds like a huge operational shift in practice? "Well it wasn't f**king easy," he laughs.

It wasn't the only deep-rooted problem that needed fixing. A standout example of how outdated the organisation was is exposed by its reliance on an archaic green screen IT system. "It took a day to run a report. There were no daily sales figures. I found it almost amusing. The business had tried to migrate to SAP but didn't have enough experience to know how difficult that was. So we are doing it again, starting from zero with a top class team of people. The first stage goes live in two weeks."

If there is one thing that hasn't changed for over 100 years it's the bestselling bottle of wine, the modestly monikered Good Ordinary Claret. "We are very lucky we have intelligent customers. It's tongue in cheek as it's not ordinary at all, it's very extraordinary, but the next one up is called Extraordinary Claret, so we are happy to slightly take the mickey out of ourselves like this. We sell 20,000 cases a year, people like it, and the quality always exceeds the expectation. That is important in a business like this."

At £8.75 it's "not an intimidating price point. Our average price for a bottle people buy to drink that evening is about £20. The average for wine collectors would be nearer £200. We regularly sell wine at over £1,000, but rarely do we sell a bottle at £2,000 that someone pulls the cork on that night."
Brexit
Jago could have been forgiven for knocking back the most expensive bottle in the shop when the UK voted for Brexit that infamous night last Summer.

"I woke up at 4.30am because I couldn't stay asleep any longer. My brain told me 'You need to find out' and I was absolutely horrified. I was completely certain the night before what the result would be, I was telling all my friends the percentage split. I knew the answer."

Like many people, he didn't. It's not all bad news, though. Fluctuating foreign exchange rates had the "biggest impact and we saw an upside from the export of spirits and from our strong business in Asia".
"I woke up at 4.30am because I couldn't sleep any longer. My brain told me 'You need to find out' and I was absolutely horrified…"
But equally "we had to put a very small price increase through, particularly in our restaurant and hotel business. That basically negated some of the impact. I had a very significant foreign exchange risk around the half-year stage in September, but through the performance of the business we have managed to negate that."

And "leaving aside the rabid vernacular at either extreme of the debate, in the middle there is a core of people, particularly business people, who want to make the best of Brexit. The uncertainty around not knowing what the hell the impact and implication of negotiations will look like, or what the administrative burden will be, is going to be complicated. But 98% of the wine we sell is imported, 75% of which comes from the EU. They are going to want to sell wine to us, and we want to buy wine from them. We will make it work."

Jago describes the atmosphere as having a "sense of ambition. It's a word I use a lot internally when describing to the leadership team the culture I want to develop here. Around Brexit there is an ambition to get it done well, and get on with it. There will be some upsides, some freedoms.

"Hopefully, if the government is as entrepreneurial as the industry, we can see how we can trade in a more open and active way with the US, Australia, New Zealand, Canada and others."

Under the circumstances, it's the only way to be. Although he also says he hasn't come across any compelling reasons to make him believe it "wouldn't be easier to go back to how it was before."
Budget
Chancellor Philip Hammond put more pressure on the books earlier this month, when he announced "no changes to previously planned upratings of duties on alcohol" as part of the Spring budget, meaning alcohol prices would begin to rise in line with inflation. And he hasn't backtracked on this one.

"We are disappointed, but it wasn't unexpected. What struck us is that when inflation is under 2% it's manageable, but it's 3.9%. And we will be at that level for the next five years, so that's another 50p on a bottle of wine in five years' time."

Jago also found it "very interesting" that it was applied across the board. "Normally beer comes down a bit because it's populist, spirits are frozen because it's Scotch whisky, and wine gets hit because we import it from Johnny Foreigner. But this was the first time I can remember that it was raised across all alcohol."

He's sanguine about the reasons, though. "The government needs a lot more money to cover the cost of Brexit. And they have to raise it from somewhere."

And what of the future for Jago, Berry Bros & Rudd?

"The five-year plan says we concentrate on doing what we do well even better for more customers. It's not a volumetric growth strategy, it's a qualitative growth strategy. This is a business based on pleasure, experiences and quality. Instead of reinventing this business, my job is to make it fit for the next 300 years. The family doesn't want to stop being a family business. They don't want to be owned by anyone else. They would like to be profitable, consistent, sustainable and do interesting and exciting things. And I'd like to be known for that. I'd like us to always be surprising."

With that we go deep into the dusty cellars, past crates of Champagne and Chateau Lafite Rothschild ("about a grand for that") and up through the tasting and function rooms, finally emerging into the shop where I pick up a Rioja and a Malbec for £23.94.

"It's not difficult to see why I said yes," says Jago. "You don't often get the chance to operate in an environment as rarefied as this, and to be given the freedom to do your own thing and introduce some really radical changes. What could be nicer?"