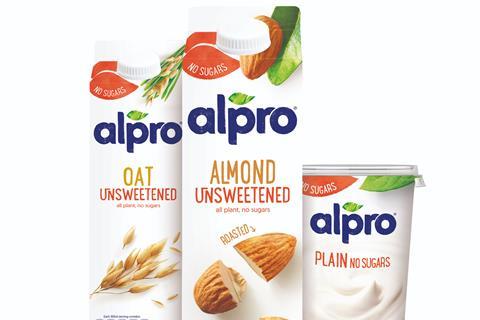 Alpro has unveiled a new look for its range of dairy alternatives as it seeks to attract new shoppers and lead the "next wave of growth" for the plant-based category.

The packaging revamp started rolling out across Alpro's 150-strong portfolio this week, and includes a new logo.

On-pack illustrations played up the brand's link to natural ingredients, said marketing director for UK & Ireland David Jiscoot, while packs also carried simple, everyday recipe ideas and usage inspirations.

Products now also carried nutritional labelling on front of pack, Jiscoot added, with the new design helping the range better stand out in-store and online.

The brand wanted to sell "more packs to more people, more frequently", he said.

"Our new packs are perfectly placed to attract even more new shoppers, as well as increase frequency of purchase among our existing fanbase, with our own research showing that eight out of 10 people would be likely to buy Alpro under the new branding."

The refresh will be backed by a raft of innovation to drive Alpro into new categories over the coming months, including new coffee and high protein products. It is also set to launch a major new marketing push to mark the rebrand from mid-August.

Alpro's mission was to "deliver a plant-based solution in every consumption moment by tapping into plant-based usage out of home and on the go", Jiscoot said.