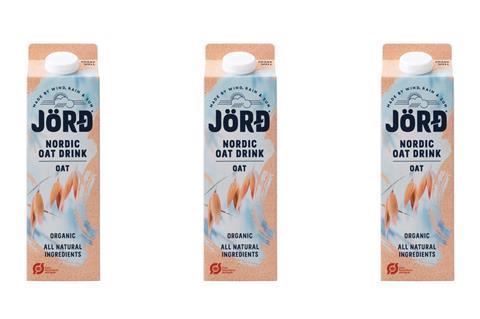 Arla's first-ever plant-based brand Jörd will launch in the UK next month with a trio of 100% organic oat drinks.
The new brand – first reported by The Grocer last summer – will go on sale exclusively in Sainsbury's from 21 September in standard Oat, Oat & Barley and Oat & Hemp variants.
Sold in one litre cartons, Arla said the chilled range would also go on sale in other UK retailers from January and was made from all-natural ingredients. The oat variant contains just water, oats, rapeseed oil and salt; while the other two variants contains water, oats, barley, rapeseed oil & salt; and water, oats, hemp and salt respectively.
The UK is Arla's second global market to launch the brand after it went on sale in Denmark – where the drinks are made – in May. The brand name references Nordic mythology, with Jörd known as a goddess and the mother of Thor.
"In a healthy diet we believe there's a role for both dairy and plant-based and we're increasingly seeing this in fridges across the UK," said Arla senior category and brand manager Verity Richardson.
"With about 11 million shoppers buying plant-based and dairy in the same basket [Kantar, August 2020] it's not about choosing – both can be enjoyed."
The "rapid growth" of the plant-based market and the 22 million people in the UK now following a flexitarian lifestyle, meant it was "clear shoppers want freedom to choose", she added. Jörd offered "an alternative to the free-from fixture that tastes great but without any preservatives."
The dairy co-op has not ruled out expanding the new brand into other products if succesful.
In an interview with The Grocer in March, Arla's UK MD Ash Amirahmadi said plant-based had "captured the imagination of people looking for different tastes and flavours", and aligned with the principles driving Arla's strategic branded growth agenda.
While stressing Arla's continued commitment to its core dairy offering, Amirahmadi added the launch of Jörd was a "business opportunity" for the co-op's farmer owners.