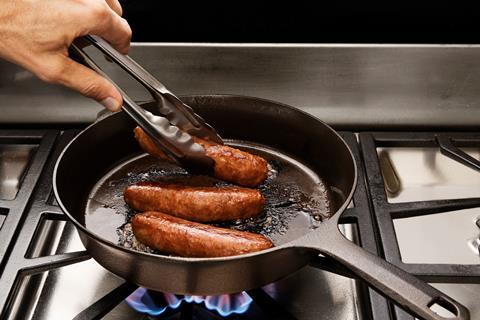 Plant-based sensation Beyond Meat will expand its range in the UK next week with the launch of the Beyond Sausage.
Made from pea protein, fava beans and rice, the vegan sausage will be merchandised in the chilled aisle and will join the brand's Beyond Burger by launching into 458 Tesco stores on 26 September (rsp £4.95/pack of two).
Also available at Lewis Hamilton's recently opened Neat Burger restaurant in London, Beyond Meat said the product was the first plant-based sausage that truly delivered "the juicy, sizzling & delicious satisfaction of a pork sausage".
It is currently manufactured in the US. But with Beyond's Meat's new factory in the Netherlands due to open at the start of next year, production would eventually switch to this side of the Atlantic, said the brand's CEO and co-founder Ethan Brown.
This would also lead to a reduction in price in due course, he told The Grocer, bringing it closer to similar vegan sausages sold by brands such as Heck and the Meatless Farm Co, which are currently available at roughly half the price in the mults.
"It's a very big goal of mine to make these products more affordable," Brown said. "The challenge is that our scale is so small, but as we achieve greater scale in our supply chain, I have every confidence we can lower that price compared to other plant-based products and animal proteins."
The strength of the sausage – which was launched in the US in December 2017 – came from its taste and mouth feel, Brown added.
However, he conceded the product, and plant-based sausages on the whole, still required more work to "perfect the bite" on casings.
"Everything we do is a work in progress. We always strive to improve our products and spend 10% of our revenues on R&D," he added. "But that said, we have great pride in what we have on the market, and we believe this is the best product of its type on the market."