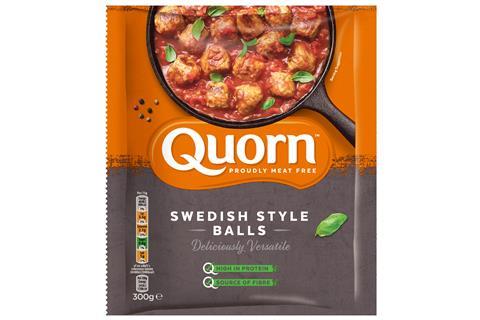 Production capacity constraints and a struggle to keep up with soaring demand have led to a big slump in volumes for Quorn.
The market-leading meat alternative brand saw year-on-year volume sales drop 7.8% to 6.9 million units in the mults during the 16 weeks to 11 July [Nielsen].
Value sales were also down during the same period, albeit marginally, by 0.1% to £58m. Nielsen noted Quorn had struggled to capitalise on a lockdown surge in sales among the top 10 meat alternative brands, which collectively grew their value by 28.7% to £122.6m, while volumes increased 14.8%.
As The Grocer reported in February, a larger than ever Veganuary – more than 400,000 people signed up globally – led to a surge in sales of meat alternatives in the mults.
But in the face of this higher demand, a slew of major brands sold out in UK supermarkets, with Quorn among the worst-hit. It confirmed there had been "unprecedented levels" of demand for its products at the time – resulting in shortages.
Those supply shortages continued into the pandemic, leading the brand to focus on key products to "ease manufacturing challenges and increase production efficiency", said Quorn commercial director Phil Watson.
The brand faced another blow in the past two weeks, with 25 out of the 40 products it sold in Morrisons listed as out of stock amid a wider plant-based supply issue caused in part by a "depot changeover", according to the Fry Family Food Co.
However, Watson stressed Quorn's supply issues would soon be over following a £150m investment in production over the next three years as it strove to "meet record levels of demand for shopper favourites".
"We've increased production over the past few months," he added. "We expect to relaunch several SKUs to market by the end of this year, starting with one of our most popular frozen products, Swedish Style balls, which is back on shelves now."