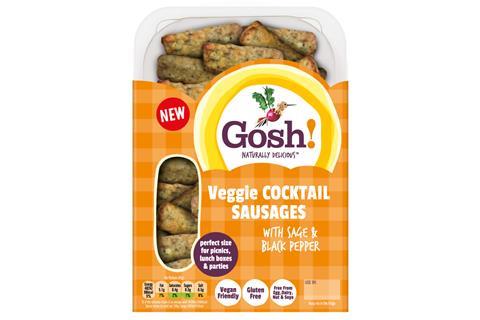 Plant-based brand Gosh! has launched a new vegan cocktail sausage SKU.
The sausages, which are made from a combination of chickpeas, cauliflower and butterbeans with a 'Cumberland-style' seasoning of sage and black pepper, will be available from Morrisons on 11 November and Booths a week later (rsp: £1.99/240g).
"The market is flooded with sweet snacking options like cereal bars, protein bars, sweets and chocolate. However, healthy, plant-based snacking options are very limited, especially for those on a restricted diet," said brand manager Jenny Robertson.
"We know that many consumers are looking for products made from natural ingredients and great quality, and we identified the gap in the market to launch our Gosh! Cocktail Sausages."