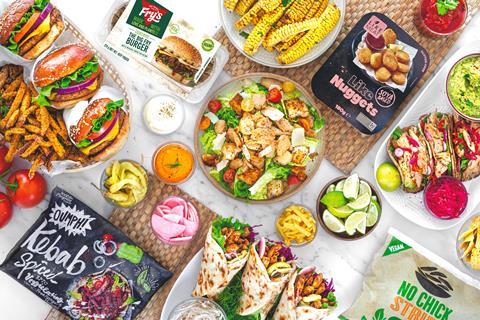 Iceland is doubling its meat-free offering this week after listing products made by plant-based brands Fry's, Oumph and LikeMeat for the first time.
The listings for the three brands – owned by plant-based consolidator the Livekindly Collective – follows the sale by Iceland of its frozen vegan brand No Meat to Livekindly in January.
As part of that acquisition, Iceland and Livekindly entered into a partnership to significantly expand its offering of plant-based food, leading to the spate of new listings for the trio of brands this week.
Products from Livekindly Collective brands to be launched into almost 1,000 Iceland and The Food Warehouse stores consist of five lines by Fry's, including its chicken-style nuggets, burger and fishless fillet.
Five Oumph SKUs include the brand's spiced kebab and mince, while Iceland has also listed two LikeMeat lines, with its chicken-style nuggets and breaded chicken alternative.
"We've seen substantial growth in meat-free sales and are committed to offering our customers a broad choice of meat-free meal solutions for every meal occasion," said Iceland trading director Andrew Staniland.
"Doubling our meat-free offering is further evidence of bringing healthier food choices to our customers to meet the demand for plant-based meat alternatives," he added.
"We're excited to be bringing a brand new range of 100% plant-based products from some of the best known and most loved brands in the UK to the Iceland shopper and seeing what our customers think about the new range."
Livekindly Collective UK general manager Domenico Speciale added that partnerships were "crucial across the whole value chain to help deliver our mission to make plant-based eating the new norm".
He added: "Making our products widely available helps us to deliver on that mission. I am delighted to be working with such a values-aligned partner to bring the best plant-based products to Iceland shoppers.
"I am excited to be working with the Iceland team over the next few years to inspire and educate shoppers looking to make healthier choices and move to a more flexitarian diet."