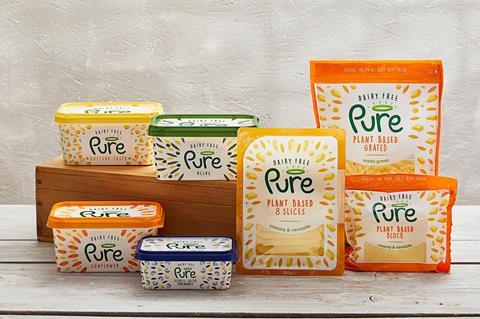 Kerry Dairy Consumer Foods has expanded its Pure Dairy Free range from spreads into vegan cheese for the first time.
The supplier – Kerry's remaining food-producing business that wasn't sold off to Pilgrim's Pride in 2021 – launched the coconut oil-based cheese alternative in Grated (rsp: £2/160g), Block (rsp: £2.30/200g) and Slices (rsp: £2/160g) variants into Sainsbury's earlier this month.
Pure said it planned to expand availability of the block and slices variants in other major retailers later this year. The core Pure spreads range can be found alongside butter and spreads in the chilled aisle in Tesco, Sainsbury's, Morrisons, Asda, Waitrose and Ocado.
The new range had been developed "to adapt to consumers' evolving needs", the brand added, and was inspired by "the versatility, creaminess and meltability that consumers come to expect from dairy cheese".
It is entirely vegan, dairy-free, gluten-free and lactose-free.
"Our new range is a natural addition to our existing pipeline and has been produced as a response to the increasing demand for plant-based products from consumers who are looking to reduce their dairy consumption or cut out dairy completely," said Kerry marketing manager Sarah Davies.
"As one of the most well-known brands in the category with a loyal consumer base, we are excited to expand Pure's range and offer a new affordable and healthier alternative to dairy."
The NPD follows the launch of a vegan variant of Saputo's Cathedral City earlier this month.