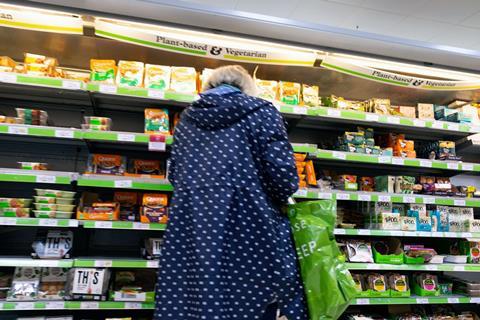 Meat-free ranging in the major mults has shrunk by over 10% in the past six months, in a sign of a category slowdown.
The number of meat alternative lines on sale in the traditional big four and Waitrose fell 10.9% during the 26 weeks to 20 March, analysis of Assosia data by The Grocer has revealed.
Bearing the brunt of this rationalisation was The Tofoo Co, which suffered a 42.9% decrease in range volumes. Unilever's The Vegetarian Butcher was another big casualty, losing 31.6% of its lines in six months.
The Tofoo Co's owner and MD, David Knibbs said, "at the end of 2022 we took the tough decision to reduce our range of Tofoo products and we have temporarily come out of frozen to concentrate our focus and energy on our core SKUs".
He emphasised that the range reduction had not had a "detremiental effect" on performance but in fact the brand was in growth.
"Tofoo will always remain unique within the category in amongst the swathes of meat mimics, holding its own as a core ingredient for cooks that want a brilliant natural alternative protein," Knibbs added.
The biggest meat-free brands have also fallen under the axe. Quorn and Linda McCartney's lines are down by 6.6% and 6.7% respectively.
However, Quorn stressed it had added 25 lines across chilled and frozen in the past 12 months in all major retailers. Quorn's net SKU count had only fallen by one in the past six months, its data showed.
"We've been working hard to secure more distribution for our bestsellers and our data shows our distribution points are up by 5%," it said.
Richmond's meat-free lines also declined by 10% in the period, despite owner Pilgrim's Food Masters axing its Taste & Glory range last February to focus on the brand.
However, not all brands are suffering from less shelf space. Beyond Meat secured an additional eight lines, increasing range volumes by 53.3%. This was partly driven by new listings at Morrisons at the start of the year. The brand this week also revealed plans for a new chicken alternative range.
Meanwhile, Meatless Farm lost just one line.
"Supermarkets [have] allowed too many small companies and gimmicky ideas," said the brand's founder Morten Toft Bech. The rationalisation of lines was a reaction to this issue, he added.
"They allowed them to be listed because there was hype around plant-based but they did not necessarily perform on the quality they needed to do," Toft Bech argued.
Expectations from consumers were now far higher, he said. And strategies were therefore shifting towards "creating core SKUs that are not the entertainment of the month for retailers but what consumers are looking to buy to replace existing protein".
Paul Milner, consultant and board advisor to tempeh brand Plant Power, agreed, adding "we have gone through a land grab" but "now the economics are kicking in".
Milner added companies had "rushed out with same base ingredients, processes and similar products" but they were now "getting found out".
And because of this "very few of them have got real resonance and understanding with consumers", as soon as a brand's budget came under pressure "they go backwards".
This was echoed by another industry expert who said that "low barriers, too many brands and lots of duplication," were to blame for a saturated market.
It comes as Nestlé last week announced it was pulling its Garden Gourmet and Wunda plant-based brands following lacklustre sales.
The brands were now operating in a "very different and uncertain economic climate" to when they launched in 2001, said Nestlé UK & Ireland Food MD Honza Dusanek, who cited competitive market conditions plus increased production costs exacerbated by the war in Ukraine as a key driver in the food giant's decision.
Milner suggested that Nestlé had "found it very difficult to establish themselves" in meat-free in particular, as it had come out with "me too" products which were like other available lines.
But despite this rationalisation, "I think the people who write the category off do so prematurely," stressed Milner. "It is a long-term trend and it needs to be to be part of a sustainable food production".
The Grocer's Top Products report on the meat-free market revealed the category was worth £570.2m in 2022, which represented a 6.1% decline on 2021. However, many brands gained sales last year, with Richmond, Beyond Meat, The Vegetarian Butcher, Squeaky Bean and Meatless Farm adding a combined £14.9m in sales.
Toft Bech suggested that while the sector now accounted for 3% of the meat category he hoped it would hit 10% by 2030.
And according to Assosia data, alt milk lines are not seeing the same rationalisation just yet, despite Nestlé decision to axe pea-protein-based dairy alternative Wunda, and Innocent's move to delist its dairy-free milk alternatives this week.
However, this situation was likely to change, according to Adam Draper, managing director of Nurture Brands, owner of Rebel Kitchen milk.
Draper said he now expected to see "growth in own-label, reduced range, less choice and consolidation around the brands that offered real differentiation, quality and value".
"What we are seeing now is the realisation that the UK market is simply too small to sustain all new entrants and as inflation rises, consumers become more cost conscious and trade down to own-label, only the strongest brands will survive," Draper added.
"And without being too specific, sometimes even the strongest brands stretch themselves so much that the financial health of the company behind the brand suffers under the weight of the huge spending in marketing investment and price discounting."
"Providing a plant-based offer to our customers remains a key focus for Morrisons and we are continuing to launch new products into the category," said a Morrisons spokeswoman.
A Tesco spokesman said the retailer was "committed to helping customers make healthier and more sustainable choices when they shop" with a "wide selection of market-leading branded and own brand products across fresh, frozen, dairy alternatives and cupboard essentials".
Meanwhile, a Waitrose spokeswoman stressed the retailer had seen reductions of less than 6% in meat-free lines over the last six months. "As with any range we see a natural churn of products, however, our shelf space dedicated to our chilled and frozen plant-based lines has remained the same, allowing us to offer customers even better availability on the products they love."
The Vegetarian Butcher, Pilgrim's and Linda McCartney's were also approached for comment.