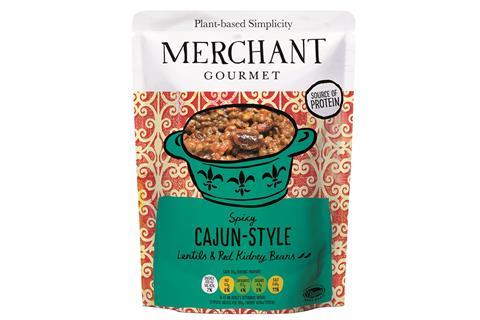 Merchant Gourmet is readying a swathe of NPD as it looks to push the business in a wholly plant-based direction.
It has unveiled a Spicy Cajun-Style Lentils and Red Kidney Beans SKU, which combines puy and green lentils with the flavours of "the deep south of America" to give a spicy and exotic taste, it said.
The NPD has launched at Waitrose and Ocado (rsp: £2/250g).
It recommends the contents are added to a wrap for a plant-based burrito, mixed into "chilli non-carne" or used as a topper for nachos.
It comes as Merchant Gourmet has kicked off a new campaign called Appetite for Change, which sets out make plant-based ingredients such as lentils the main item in meals, having previously been a brand associated with 'side of plate' additions to meals, it said.
The brand is currently in the process of changing any of its packaging that references or suggests adding meat or cheese to a meal, as well as removing recipes previously on its website.
It also plans to build on its meat alternative position by launching a "new food concept" later this year.
"There is an appetite for change, not only from us as a business to become even more environmentally friendly, but consumers too," said MD Richard Peake.
"People are more engaged than ever and aware of their carbon footprint, they're open and eager to make a change – whether that be embracing a fully plant-based diet or reducing their meat intake."