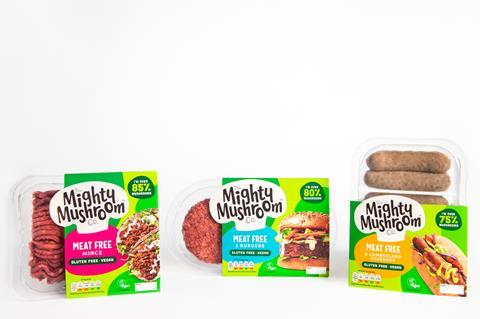 Major mushroom producer and supplier Monaghan has unveiled a new vegan brand designed to appeal to consumers seeking out sustainable plant-based options.
The Mighty Mushroom Co, which went on sale via Amazon Fresh earlier this month, consists of three SKUs – meat-free mince (rsp: £2.99), burgers and Cumberland-style sausages (both rsp: £2.50).
All three new products are gluten-free and were said by Monaghan to be made predominantly from mushrooms, with the sausages containing at least 75% mushroom content, the burgers more than 80% and the mince over 85%.
Other ingredients included vegetable oils and natural colourings, flavourings and preservatives, the supplier said, with servings of all three products weighing in at no more than 150 calories per portion.
Monaghan also played up its new brand's green credentials. It said all the mushrooms used in the NPD would be sourced from Ireland. The supplier, along with the wider British and Irish industry, has previously railed against the food miles associated with retailers sourcing the vegetable from countries like Poland.
Chief commercial officer at the company Noel Hegarty suggested the launch aimed to build on the mushroom's position as one of the leading plant-based ingredients.
"Consumers are no longer satisfied with bland meat-free options and demand products that are leading in innovation and provide the best possible taste," he said.
"The Mighty Mushroom range is positioned as the perfect plant-based option for those looking to reduce their meat consumption, whether to make meals more adventurous, add to classic family dishes or simply eat on their own."
It comes at a time of significant retail sales growth for mushrooms.
Over the past year, the category has grown £91.3m (20.7%) to £532m with volume sales also up 17.5% [Kantar 52 w/e 18 April 2021].
Grower body UK & Irish Mushroom Producers has previously put this increase in demand down to the fungi's health credentials.