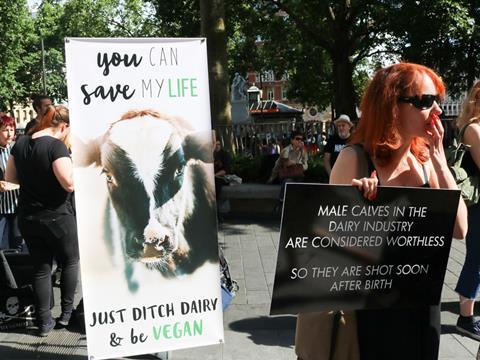 Happy World Plant Milk Day. If you were thinking of baking a cake to celebrate, maybe pass on the buttercream.
It's the latest in a series of food awareness events of the 'no animals, please' persuasion. In fact, barely a month has gone by where there hasn't been one celebration of plant-based diets or another.
We had Veganuary (prompting the creation of the dairy industry's Februdairy fightback), then Plant Power Day on the seventh day of Veggie Month, known to most as March. National Vegetarian Week (14 to 20 May) followed at a blistering pace, followed by a summer lull, during which the guilt tripping took a break just long enough to gorge on a metric tonne of barbecued meats.
But the plant milk awareness drive, not to mention the grey weather, has rather unceremoniously put a stop to carnivorous cookouts for the time being.
The brainchild of Plant Based News and food awareness organisation ProVeg, which is on a mission to reduce global animal consumption by 50% by 2040, World Plant Milk Day has returned for a second year espousing the benefits of ditching dairy.
With key messaging around the health, environmental and ethical reasons for switching to soya and the like, it has a compelling argument. At least until ProVeg runs out of steam at its reason number five, urging the notoriously stubborn Twitterverse to go plant-based because "everybody's doing it".
Nonetheless, ProVeg claims ditching dairy for a single week would save the planet 3.5kg of CO2 and 3,353 litres of water per person, not to mention cutting out cholesterol and lowering fat consumption.
It also tells of a "great deal of suffering" in the lives of cows (something the dairy sector vehemently contests) so it's unsurprising the 'scary dairy' refrain has once again proliferated across social media.
But this time around the dairy industry has chosen not to engage.
After the great clash of vegan activists versus #TeamDairy during the first two months of the year, the dairy industry, led by Dairy UK, is instead focusing its efforts on positive messaging. Its Tell It Like It Is campaign launched just in time for Februdairy, but has attracted less vitriol from activists than previous endeavours.
After all, you catch more flies with honey than vinegar, and more foodies with camembert than cashew milk.
Perhaps this means the dairy industry really can claw back the turning tide of dairy reducer types. Attitudinal data released last week to coincide with the announcement that Dairy UK's 'Department for Dairy Related Scrumptious Affairs' ad campaign will return for a second year suggests the industry is managing to nudge younger consumers back towards dairy.
It's early days, but there's hope the campaign will succeed in ingratiating Generation Z before they head down the same path as flexitarian millennials – dairy-free and celebrating a seemingly endless stream of awareness days.