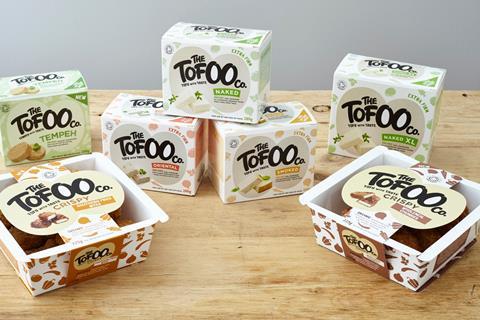 Tofu brand The Tofoo Co has reported record turnover levels for January on the back of a successful Veganuary.
The brand said sales last month were double the levels of January 2019, at more than £1m. This also surpassed turnover generated throughout the whole of 2016, it added.
Nielsen Scantrack data for the four weeks to 25 January showed sales of tofu outgrew the total meat-free category by 8%, said Tofoo Co MD and founder David Knibbs. The tofu category was worth £3.1m and grew by 43% last month, against a 35% increase in sales in the overall meat-free market to £23.4m.
"Our January turnover, coupled with the Nielsen data, paints a very positive picture of the tofu category," said Knibbs.
"Trends suggest tofu is now being considered as a standalone 'real food' ingredient, not a fake meat alternative," he added, citing Nielsen data that showed the top two selling products in the meat-free market in January were both tofu products (Cauldron Block 396g and Tofoo Co Naked 280g).
It comes as Birds Eye has also hailed the success of Veganuary, with its frozen plant-based range Green Cuisine driving 40% of growth in the frozen meat-free category, as total frozen meat-free sales rose 12% to £16m [Nielsen].
Green Cuisine was "perfectly placed to meet the growing demand for meat-free products, with more shoppers than ever seeking alternative sources of protein and reducing the amount of meat they are consuming", said Birds Eye senior brand manager Anne-Marie Gayer.
"We have just seen the biggest frozen Veganuary on record and continue to see demand for vegan products grow all year round."