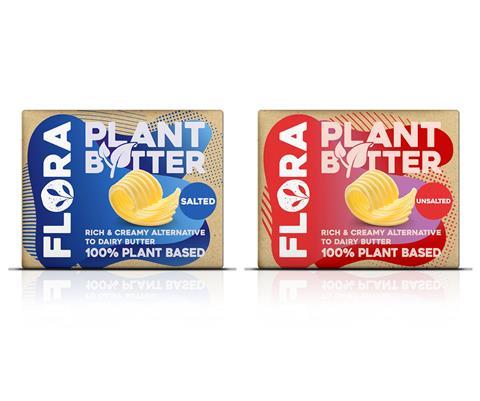 Upfield has continued its push on the environmental credentials of its products after announcing plans to introduce on-pack carbon labelling across its portfolio by the end of 2021.
The plant-based giant said the labelling, which was already on its new Flora Plant butter alternative – launched in July, would be rolled out globally across leading brands such Flora, Becel, ProActiv and Rama over the coming months.
Citing a report published in scientific journal Nature last year – which suggested consumer behaviour and purchasing decisions were positively affected by carbon labelling – Upfield said its goal was to help shoppers "make informed decisions about the environmental impact of the foods they choose".
It added that consumers tended to "underestimate the carbon impact of the foods they eat, so informing and inspiring them to choose foods that are not only healthier, but more sustainable, is a crucial step in the transition towards a more sustainable food system".
The on-pack labelling will outline the carbon footprint of a product in kg per Co2 equivalents. It follows a similar move by Quorn last year, while plant-based dairy alternative Oatly has carried the carbon footprint of its products on pack for several years.
"Today's food labels already provide consumers with a lot of important information about ingredients, health benefits, allergens, storage and use," said Jeanette Fielding, chief corporate affairs and communications officer for Upfield.
"By adding carbon labels, consumers will also be able to understand the impact their food choices have on our climate… using full disclosure and transparency as a key motivator for sustainable food choices," she added. "We call upon our industry peers to follow suit and implement on-pack carbon labelling now."
Based on a peer-reviewed 2016 study on the environmental impacts of its products – which was published in the International Journal of Life Cycle Assessment – Upfield claimed its plant-based margarines and spreads averaged a 70% smaller carbon footprint, used half the amount of water and occupied two-thirds less land than dairy butter.
"Living within environmental limits for a growing global population requires a shift from growers, manufacturers and consumers," added Upfield head of sustainability Sally Smith.
"Sharing science-based environmental assessments is the only responsible way of communicating to consumers the climate impact of their food choices."