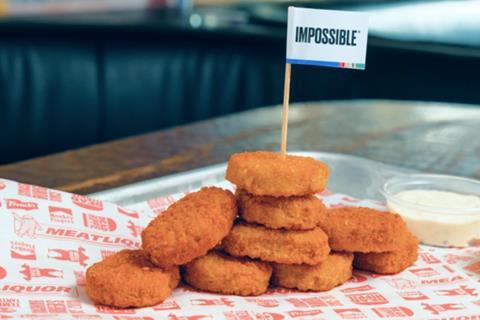 Silicon Valley's Impossible Foods has made its long-awaited European debut with the launch of its Impossible "chicken" Nuggets and Impossible Sausage Patties into foodservice in the UK.
The US brand said it hoped to convert meat eaters with the rollout of its nuggets and patties into 300 restaurants across the UK, starting from 19 May. An expansion into retail is also planned later this year.
Its nuggets are made from wheat, soy protein and sunflower oil and launched in the US last year, while the patties – which were first popularised through a listing in the US in Starbucks in 2020 – consist of soy protein, sunflower oil and coconut oil, though Impossible stressed the product's European recipe differed.
Speaking to The Grocer ahead of Impossible's launch, founder Pat Brown said the brand's mission was to "completely replace animals in the food system".
"We are not interested in competing for vegan and vegetarian consumers," he explained. "Our consumers in the US are almost 90% omnivore meat eaters and our data suggests most of our sales are displacing an animal product in the shopping basket, not another plant-based product. So, the real competition for us is the animal product."
With this in mind, the brand has chosen to launch into predominantly meat and poultry-focussed eateries first, such as Chicken Cottage, pub group Greene King, burger shop chain Patty&Bun and restaurant brand MeatLiquor.
Head to head taste tests had been "unequivocal – Brits simply prefer Impossible nuggets over the animal version", added Impossible Foods CEO Peter McGuinness. "The UK has a unique and unrivalled chicken shop culture that we're confident our nuggets will compete in because they're better tasting, better for you, and better for the planet."
Impossible is famous for its 'bleeding' burger, which contains soy leghemoglobin, or plant-based heme, and gives the product its meat-like taste and texture.
The burger has been notably absent from this initial launch as the brand is still pending approval from the FSA for use of the ingredient in the UK.
"You are eating heme in thousands of different protein complexes every single day so that is not an issue really," said Brown. "Even an ingredient which is familiar as part of the diet, if it is used as an ingredient as opposed to just there it is subject to regulatory scrutiny."
Impossible said it had provided an extensive dossier to the FSA which was now evaluating its proposition. "We have had back and forth, no issues have arisen with it, it is just a process. The UK is no slower than anyone else, it is just a bureaucracy," he added.
But even without its flagship burger, Brown was confident the brand would attract customers in what was becoming a crowded UK meat-free category – due to its investment in scientific research, which it claimed, went far beyond just the use of heme and replicated the meat-eating experience.
For the future, the brand was targeting the "keystone products from every animal that is exploited by humans" and hoped to expand to "completely replace" these products and make it a "losing proposition to be making animal based foods", it added.