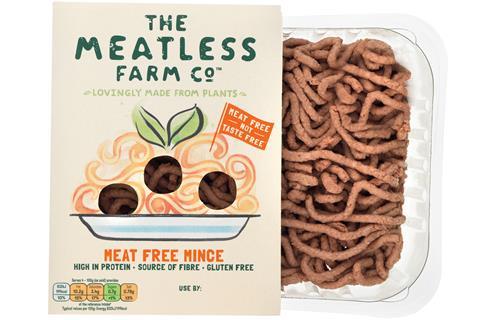 Meat alternative brand The Meatless Farm Co has secured a new nationwide listing in Morrisons and is on the verge of landing a £3m investment to upgrade its Yorkshire base.
The Leeds-based supplier's 400g fresh mince line and its two-pack 227g fresh burger patties have gone on sale in 464 Morrisons stores from this week (rsp: £3 and £2.50 respectively).
The new listing covers some 95% of the nation's Morrisons stores, and follows the launch of the brand into more than 600 Sainsbury's stores last October. The launch will be supported by social media and PR activity, while the products will be available in Morrisons' meat-free fixture.
It comes as the Times reported today that the brand was set to benefit from a £3m investment from private backers to upgrade its headquarters and add a research laboratory in a bid to compete with US giants such as Beyond Meat.
"The UK market is extremely important to us as we're a British plant-based company, but we also strongly believe the UK is central to this global shift in the way people eat," said Meatless Farm Co CEO Rob Woodall.
"The meat alternative market is expected to be worth £4.1bn globally by 2020 [Visiongain 2018] but we also know from our own research that 42% of British consumers are increasing the amount of plant-based food they eat this year," he added.
"The new listing with Morrisons will bring extensive national distribution. It is an important and timely partnership as the demand for plant-based increases."