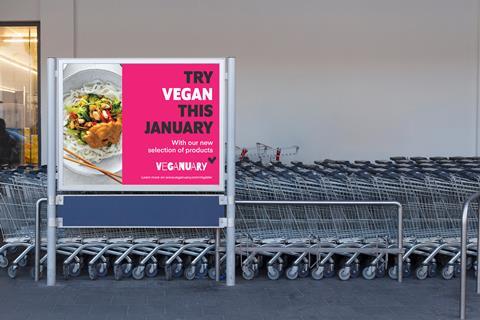 More than 400,000 people signed up to follow vegan diets during this year's Veganuary campaign, smashing the group's original target of 350,000 pledges around the world.
The campaign also smashed its 2019 total of 250,000 sign-ups on the back of a slew of plant-based and vegan NPD in supermarkets, an expanded offering in fast food operators and its first-ever TV advert.
The popularity of the campaign was reflected in an almost 400% increase in sales of Hellmann's Vegan Mayo in Tesco, said Veganuary, while M&S's Plant Kitchen No Chicken Kiev sold at a rate of four every minute since launching on 2 January.
"Veganism is a trend that we are absolutely loving at M&S, and as our customers continue to experiment and adopt more flexitarian diets, we too are having fun creating new products to fit within this," said April Preston, director of product development at M&S.
This year's campaign had "exceeded all of our expectations", added Veganuary head of communications Toni Vernelli.
Among the hundreds of new products in supermarkets and on restaurant menus, last month also saw the first Veganuary offerings from fast food giants KFC, McDonald's and Burger King, and the launch of a vegan steak bake by Greggs to complement its hit vegan sausage roll.
KFC sold one million vegan burgers in the first month they were on sale, while Greggs said the steak bake launch had exceeded expectations.
Elsewhere, orders of vegan dishes almost doubled when compared to January 2019, according to Deliveroo, which hailed the delivery site's "highest-ever demand for vegan and plant-based food".
Quorn, which worked with both KFC and Greggs on its Veganuary NPD, described this year's campaign as "hugely successful".
"Whatever motivation the consumer has for meat reducing, it will be much easier to do if great quality and well-known meat-free products are available in their favourite food outlet," said Quorn chief commercial officer Peter Harrison.