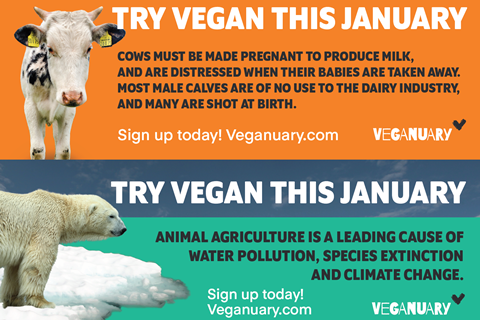 Veganuary has slammed transport giant Arriva after it decided to remove ads by the charity on its buses in Shropshire.
A local vegan group affiliated to Veganuary booked two separate ads on buses across the county for a four-week period – starting on 9 December – urging shoppers to 'Try vegan this January'.
One ad highlighted links between animal agriculture and climate change, while a second pointed to the distress felt by cows when calves were taken away from them.
An Arriva spokeswoman said its bus adverts were managed by a third-party company where a set approval process was in place.
"A recent customer complaint brought to our attention that our agreed sign-off process with this third party had not been followed on this occasion," she added, leading the company to remove the ads.
However, the decision was described as "outrageous" by Veganuary head of communications Toni Vernelli, who said they had been "censored when the messages are indisputable facts".
"Nearly every day scientists issue new warnings about animal agriculture's heavy environmental toll and urge us to eat less meat," she added.
"Every dairy farmer knows that cows, like all mammals, must have a baby in order to produce milk and it is standard practice to separate the calf from the mother within 24 hours," she said, while stressing "people have a right to know this and decide if it is something they are happy to support".
Arriva appeared to be more concerned with "protecting people from uncomfortable truths rather than enabling informed consumer choice", Vernelli suggested.
"Last year an investigation by the Guardian revealed that 95,000 male calves are still shot at birth on British dairy farms every year. And in 2017 the Advertising Standards Agency cleared an ad run by Go Vegan World that stated 'Humane milk is a myth'."
The agency had concluded that while "the language used to express the claims was emotional and hard-hitting", it was a fact that "calves were generally separated from their mothers very soon after birth under Defra regulations and so the advert was unlikely to materially mislead", she claimed.
The move follows complaints against Veganuary bus adverts in Shropshire earlier this year by deputy council leader Steve Charmley, who said Arriva was being used to promote "fake news of vegangalists" ahead of Veganuary 2019.
An Arriva spokeswoman said the company was "and continues to be impartial and the decision to remove these adverts does not relate to the content, but was taken as the agreed procedure was not adhered to".
She added: "We have taken steps to review our approval process with the third party and are working with them closely on this matter."