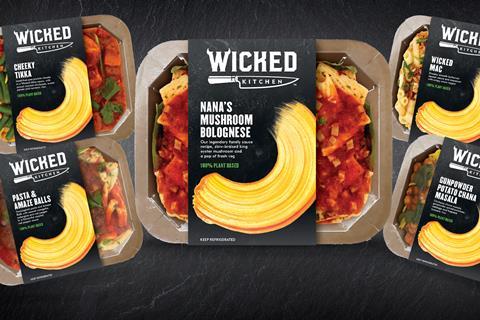 Vegan brand Wicked Kitchen has outlined plans to expand into other UK retail channels this year, building on the exclusive distribution deal it has had with Tesco since 2018.
While Wicked Kitchen would continue to sell its products via Tesco, 2022 would also see it grow its UK distribution "beyond Tesco stores and into additional channels in the UK", the brand said.
"We are actively working on growing access of our Wicked products in the UK by leveraging alternatives channels to build stronger brand awareness and product variety. Examples include food service, natural and organic channel and fast casual," said CEO Pete Speranza.
It was tight-lipped on who those retail and food operators would be, but the brand added it would launch more than 30 new products in the UK this year, including fresh ready-to-eat meals and sides, plus seasonal items such as chocolates for Easter.
The move is part of an ambitious global growth plan – which started with a move into US retailers via Kroger and Sprouts Farmers Market stores last July – and continued this month, with a launch into Northern Europe via a partnership with Finnish grocer S Group.
Altogether, some 25 of its products, spanning fresh ready meals, ice creams, snacks and desserts have gone on sale in recent weeks at more than 200 S Group locations across Finland and Estonia.
There were plans to double the offer there by the end of the year, the brand added, while it would also make its Asian debut, starting in Thailand, by the end of the summer.
Further growth was also planned in the US, with more NPD and wider distribution, including a listing on Amazon for selected products from next month.
"As a disruptive plant-based brand in the UK and the US, we are on a mission to improve the lives of humans and animals globally by offering chef-created plant-based foods with a broader appeal," said Speranza.
"By launching even more products where we already have a presence and expanding into new markets, we will continue to grow our range of delicious options to help meet the burgeoning demand for variety and flavour in plant-based foods," he added.
"Wicked Kitchen is unlike anything else that has come before it in the plant-based space in any market," said Derek Sarno, who founded the business with brother Chad Sarno.
"Wicked offers chef-crafted, mission-driven products created by exclusively vegan chefs and we put taste front and centre while offering peace of mind that there are no animal products used, ever."