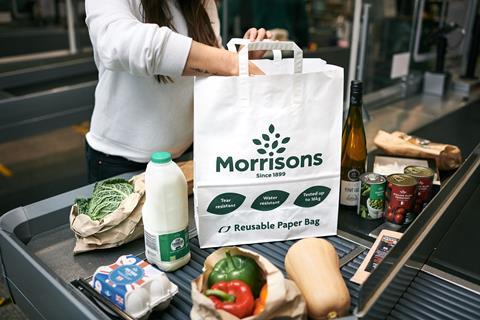 Morrisons is planning to scrap all plastic bags from its checkouts, after claiming many customers use them just once before they are sent to landfill.
The supermarket today kicked off a trial at eight stores in Bristol, Cambridgeshire, Scotland, Wales and Yorkshire, with all bags for life replaced by paper carrier bags.
If the move is supported by customers the measure will be rolled out across all its stores, which it said would cut plastic bag use by 90 million bags a year, the equivalent of 3,510 tonnes of plastic.
Along with other supermarkets Morrisons scrapped 5p plastic carrier bags in 2018, but it said there was growing evidence bags for life were causing significant environmental damage.
It insisted its paper bags with handles had a similar capacity to a standard plastic bag for life and were strong enough to carry heavy weights up to 16kg (the equivalent of 13 bottles of wine).
Labelled 'Reusable Paper Bag', the new bags are 100% PEFC accredited, meaning they are sourced from forests that are managed responsibly, and are manufactured at an eco-powered site in Wales. They are also suitable for home recycling services.
Morrisons will continue to offer jute, cotton and reusable woven bag options in its stores, ranging from 60p to £2.50.
"We believe customers are ready to stop using plastic carrier bags as they want to reduce the amount of plastic they have in their lives and keep it out of the environment," said Morrisons CEO David Potts.
"We know that many are taking reusable bags back to store and if they forget these, we have paper bags that are a tough, convenient and reusable alternative."
Last month Defra revealed plastic carrier bag sales had dropped by more than 95% in England's main supermarkets since the 5p charge was introduced in 2015.
In the last year alone, Asda, Marks & Spencer, Morrisons, Sainsbury's, Co-op, Tesco and Waitrose sold 226 million bags – 322 million fewer than in 2018/19 (59%).
Last year Lidl announced it was removing 9p plastic bags from stores in Wales as part of a trial to further cut down on plastic waste, after releasing research claiming the vast majority of bags for life were ending up going to landfill.