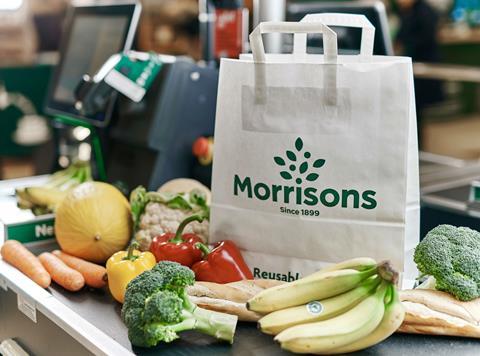 Morrisons has launched a trial of US-style paper grocery bags in its latest move in the war on plastic.

Priced at 20p each and labelled as a 'Reusable Paper Bag', they will be available in eight Morrisons stores with plans for a wider rollout if they are a success.

Morrisons also announced it was increasing the price of standard plastic carrier bags from 10p to 15p in a bid to further reduce plastic use.

Its latest measures follow the removal of 5p carrier bags early in 2018, which Morrisons said had led to a 25% reduction in overall bag sales.

The retailer said the paper bag trial was a response to customers who have told Morrisons reducing plastic is their number one environmental concern.

The new bags have handles and are a similar capacity to standard plastic carrier bags as well as being 100% PEFC accredited, meaning they are sourced from forests that are managed responsibly.
The eight stores involved are Camden, Skipton, Wood Green, Hunslet, Yeadon, Erskine, Gibraltar and Abergavenny.

The new 15p standard plastic carrier bag is produced in the UK and made from recycled material reclaimed from Morrisons stores.

Other moves by Morrisons include enabling customers to bring their own containers to butchers and fishmongers counters; moving all loose fruit & veg to be sold in paper rather than plastic bags; and removing plastic packaging from items such as cucumbers during the British growing season.

"When we listen to customers they want us to help them reduce the amount of plastic they have in their lives," said Andy Atkinson, group customer and marketing director at Morrisons.

"These new paper bags do exactly the same job as standard plastic carrier bags. They are tough, reusable and can help keep a large amount of plastic out of the environment."
Sian Sutherland, co-founder of campaign group A Plastic Planet, welcomed the move but questioned the decision to charge more for paper bags. "We need to really help shoppers make the right choice, and it starts by making it affordable to choose plastic-free," she said.