Holland & Barrett has set an ambitious new goal to ditch plastic altogether, The Grocer revealed today, starting with the removal of plastic bottles from sale. It follows a momentous 12 months for plastic reduction by major grocery retailers in the UK. Here, we take a look back at some of the biggest achievements and announcements from the past year.
Tesco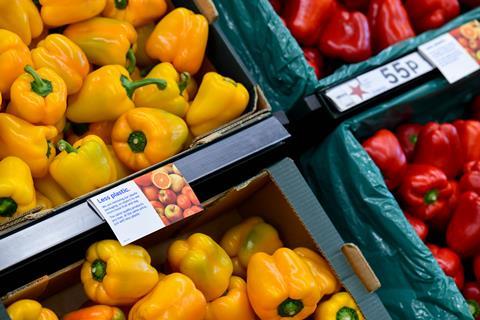 In November 2019, Tesco announced a new target to remove one billion pieces of plastic from products for sale in UK stores by the end of 2020.
It said it would remove small plastic bags such as those used to pack loose fruit, vegetables and bakery items, and replace them with paper ones, as well as ditching plastic plastic trays from ready meals, secondary lids on products such as cream, yoghurts and cereals, sporks and straws from snack pots and drinks cartons, and 200 million pieces of plastic used to pack clothing and greetings cards.
"Over the next 12 months, we will remove one billion pieces of plastic, further reducing the environmental impact of the products we sell," said CEO Dave Lewis. "By focusing on solutions that we can apply across all our UK stores and supply chain, we can make a significant difference and achieve real scale in our efforts to tackle plastic."
In January 2020, Tesco announced it would also become the first UK retailer to remove plastic-wrapped multipacks from branded and own label products and replace them with plastic-free multibuys on tinned food.
It claimed the move, which applies to own brand and branded products, would eliminate 350 tonnes – or 67 million pieces – of plastic from the environment.
Asda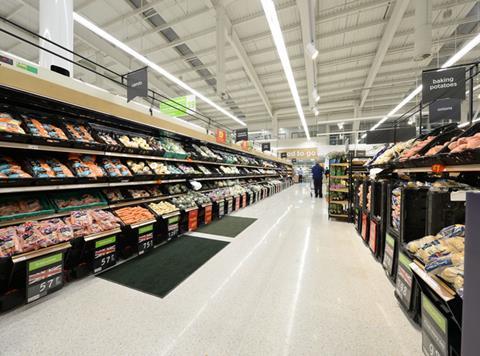 In October 2019, Asda announced it had brought forward its target to reach 30% recycled content in plastic own-label packaging to the end of 2020 – five years ahead of its original deadline. It claimed the move would avoid the use of approximately 19,500 tonnes of 'virgin' plastic.
Asda also announced a new target to reduce the total amount of plastic used in its own-brand packaging by 15% by February 2021, and said it would trial a number of new refillable and reusable packaging solutions during 2020 as part of its 'test and learn' approach to innovation.
The retailer said it would stop producing non-detectable black plastic by the end of 2019 and was aiming to make all of its own-brand packaging 100% recyclable by 2025.
Asda CEO Roger Burnley wrote an open letter in The Grocer, calling on suppliers to come forward with new ideas around reduced, reusable or recycled plastic solutions.
"We know that our customers will always look to us to provide great value products that meet their needs – and they need us to be a part of the solution in tackling the global plastics crisis, not part of the problem," he said.
In January 2020, Asda became the first of the big four to trial a packaging-free fixture at a new sustainability trial store in Leeds, while in June it announced plans to remove plastic forks from its salads and protein bowls, in a move it claimed would cut 41 tonnes of plastic – or 25.5m forks - a year.
Last month, Asda claimed a first with the launch of a 100% recyclable crisp tube for its own-brand Snax range. The move would cut 98.2 tonnes of non-recyclable packaging from Asda's operations each year, it said, the equivalent of 2.34 million crisp tubes.
Sainsbury's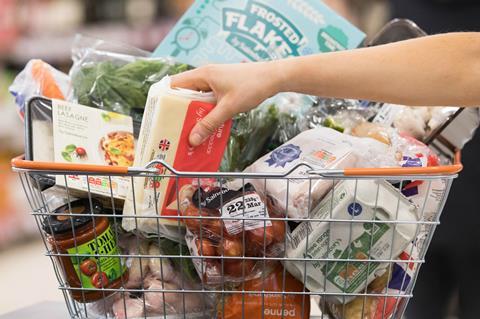 In September 2019, Sainsbury's announced a new commitment to reduce plastic packaging across branded and own-label products by 50% by 2025.
The supermarket, which used 120,000 tonnes of plastic packaging per year at the time, said a "transformational leap in thinking" was needed to move the industry beyond existing efforts at reducing packaging.
To meet this goal, Sainsbury's said it would launch a programme to accelerate change – including switching to alternative materials, using lighter-weight plastics and introducing refillable packaging at scale.
It would focus on plastic milk bottles, packaging for fruit & vegetables, fizzy drinks, water and fruit juices, it said.
"We have set ourselves a bold ambition because we understand that we urgently need to reduce our impact on the planet and to help drive change across our industry," said CEO Mike Coupe.
In February 2020, the supermarket announced it had teamed up with Ecover to trial dedicated washing-up liquid and laundry detergent refill points, in a move it claimed had the potential to save more than a million tonnes of plastic a year.
Morrisons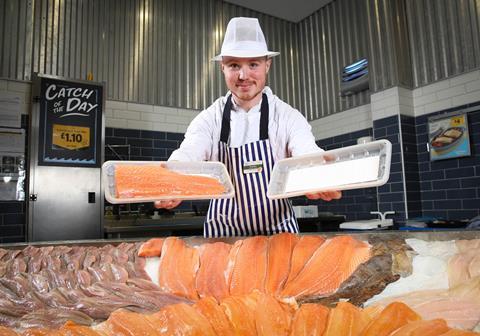 In November 2019, Morrisons became the first major UK retailer to remove black plastic from its own-brand food and drink packaging.
The supermarket – which previously pledged to make all packaging recyclable, reusable or compostable by 2025 – said the move would make almost 4,000 tonnes of plastic more easily recyclable.
It followed the removal of 174 million plastic produce bags from fruit & veg aisles, 600 tonnes of unrecyclable polystyrene from branded food and drink products and 1,300 tonnes of plastic as a result of the launch of its paper carrier bags.
Waitrose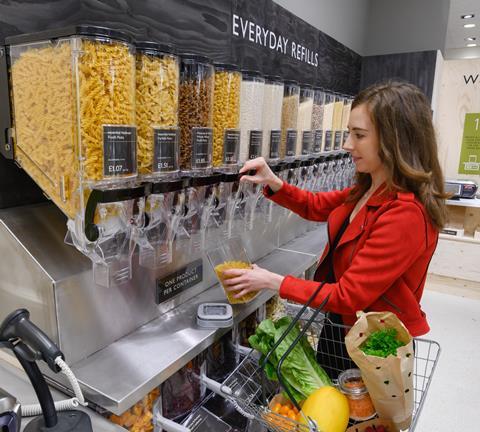 In October 2019, Waitrose announced it would remove the plastic packaging on multibuy cans of tomatoes, baked beans and sweetcorn – saving 18 tonnes of plastic annually that couldn't currently be recycled.
The retailer, which has committed to making all own-brand packaging widely recyclable, reusable or home compostable by 2023, also announced it had overhauled the packaging on some of its Essential Waitrose range in May 2020.
This included moving Essential olives from glass jars to steel cans, saving 92 tonnes of glass packaging a year, and removing zip seals from all Essential dried fruit bags, saving two tonnes of plastic a year
It has committed to reducing Essential Waitrose packaging by 15%, with a total saving of almost 2,000 tonnes a year.
Aldi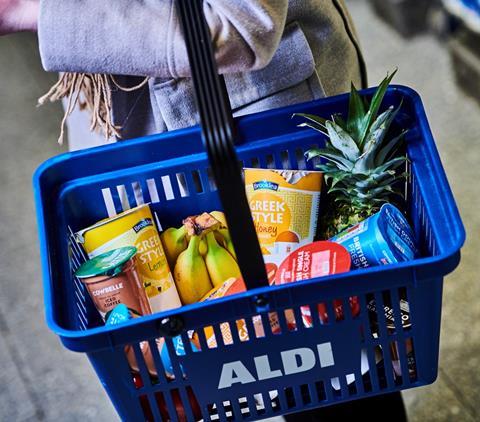 In July 2020, Aldi announced plans to halve the volume of plastic packaging it uses by 2025. It claimed the move would eliminate 74,000 tonnes of plastic – or 2.2 billion pieces – over the next five years.
The discounter said this latest commitment joined its existing pledge to achieve 100% recyclable, reusable or compostable packaging across own-label ranges by 2022 and branded products by 2025.
Writing in The Grocer last month, Aldi CEO Giles Hurley called on suppliers to "work with us to reduce plastic packaging and make the changes necessary to protect our planet for the future".
Lidl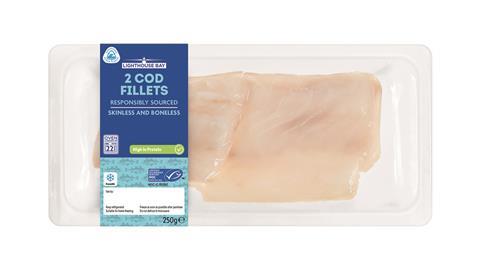 In February 2020, Lidl claimed it would become the first supermarket to launch packaging using "ocean-bound" plastic collected from the coastline around south east Asia.
The initiative would save 60 tonnes of plastic from entering the ocean per year – the equivalent of 2.5 million plastic water bottles, it claimed.
The packaging, which has been rolled out across 13 fresh fish products including white fish and salmon, forms part of the discounter's commitment to ensure 50% of packaging is made from recycled materials by 2025.
Iceland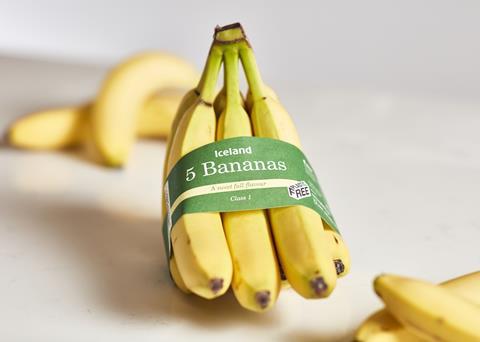 In November 2019, Iceland unveiled a range of plastic-free Christmas food, consisting of 18 products using only alternative packaging.
The supermarket, which has pledged to completely remove plastic from its own-label ranges by the end of 2023, also began trialling cardboard and paper packaging on fresh fruit & veg in January 2020 – a move it said could save over 400 tonnes of plastic.
It was forced to ditch a previous single-store trial of completely loose produce after it led to a 30% drop in sales.