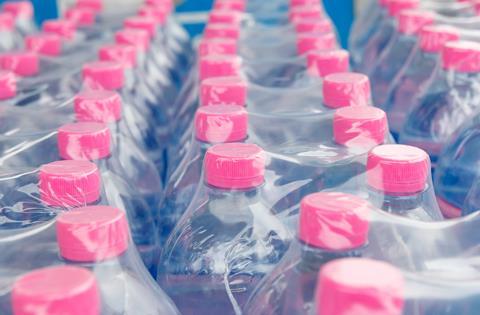 Supermarkets have been urged to clamp down on suppliers after a report showed brands had increased their use of plastic despite public outrage over plastic pollution.

The report, by Greenpeace and the Environmental Investigation Agency, based on figures from the top 10 supermarkets, revealed food retailers put more than 900,000 tonnes of plastic on the market in 2018, an increase of nearly 2% on the previous year.

Seven out of the top 10 UK supermarkets increased their plastic footprint with only Waitrose, Tesco and Sainsbury's achieving marginal reductions.

Single-use plastic packaging used by the retailers increased from 886,000 tonnes in 2017 to 903,000 tonnes in 2018, of which 536,000 tonnes was from own-brand goods, a slight decrease from last year's figure.

However, packaging from brands weighed in at 367,000 tonnes, a 5% rise, making up more than 40% of supermarket plastic.
Iceland and Morrisons successfully cut own-brand plastic only to see a rise in branded plastic outweigh their own-brand reductions, the report said.

Morrisons slashed own-brand plastic by 2,634 tonnes, but plastic from branded suppliers increased by nearly double that amount.
Iceland successfully reduced its own-brand plastic packaging footprint from 13,000 tonnes in 2017 to 10,900 in 2018, despite a sales increase in own-brand goods, but branded products meant the company's overall plastic packaging footprint rose from by 800 tonnes.

Meanwhile, more than 87% of Asda's overall plastic increase was attributable to branded suppliers. The retailer said the hot weather and a surge in pre-packed salad items was behind the rise.

Supermarkets reporting the biggest absolute growth in plastic included Aldi (up by more than 8,000 tonnes, with sales up 12.1%), and Asda (up 5,300 tonnes, sales up 3.5%) and Lidl (3,000 tonnes, sales up 8.1%).

The report criticised plastic reduction programmes for being "limited to own-brand ranges", with Asda, Lidl, Iceland, Morrisons and M&S reporting they are on track to hit plastic reduction targets whilst seeing their overall plastic packaging rise.

The report also raised major fears about the unintended consequences of the introduction of carrier bag charges, reporting a "huge rise in the sale of plastic 'bags for life'".
"It is clear from this data that many people are simply swapping 'single-use' plastic bags for these plastic 'bags for life'," it said. Iceland reported a tenfold increase in sales from 3.5 million to 34 million, while Tesco reported an increase from 430 million to 713 million.

The report said retailer trials of reusable and refillable ranges needed to be "scaled up".

"Supermarkets must be prepared to act if brands are unable or unwilling to work towards reduction and reuse objectives," said the report.

"We applaud Tesco for showing leadership by committing to consider the size and suitability of all packaging and assess whether it is excessive or inappropriate, reserving the right not to stock a product."

"Big brands are currently standing in the way of the steep reductions needed in single-use packaging and a shift into reusable ranges," said EIA ocean campaigner Juliet Phillips.

"All companies along the supply chain need to take responsibility for their role in the plastic pollution crisis, and we urge supermarkets to work together and use their buying power to demand faster action from branded suppliers," added Greenpeace UK ocean plastics campaigner Fiona Nicholls.

"Tesco recently gave an ultimatum to its branded suppliers to take action on plastics or face being delisted. That is the kind of bold action we need to see and we urge other retailers to follow suit."

FDF chief scientific officer Helen Munday said: "Unfortunately, this report does not capture the progress being made under the UK Plastics Pact, which was launched in 2018. There is a role for the entire packaging value chain to play in keeping packaging in the circular economy and out of the natural environment. There are many examples of branded food and drink manufacturers making changes to address this issue. Finally, overall packaging tonnage may not be the most useful metric to consider, since it may be a result of sales going up rather than relative quantity of packaging being increased."