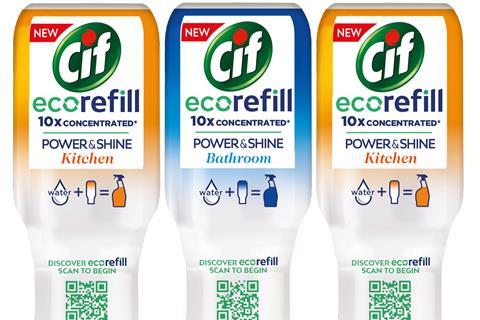 Unilever has ramped up its portfolio of sustainable household goods, expecting to remove 1.5 million plastic bottles from the UK waste stream with Cif EcoRefill.
Described by Unilever as "super-concentrated at-home refill technology", it is a recyclable plastic pack that attaches to a Cif Power & Shine trigger-spray bottle through a 'twist and click' mechanism.
It contains 10x concentrated Power & Shine cleaning fluid across Kitchen and Bathroom variants (rsp: £2.50/70ml).
Rolling out now, EcoRefill tapped "growing demand for products that use less packaging and plastic" Unilever said.
It came as "more than two-thirds of people in the UK now feel guilty when throwing away any plastic packaging" the supplier added. "More than eight in 10 (83%) people wish they had access to more refillable products."
Made with 75% less plastic than a Power & Shine spray bottle, EcoRefill is forecast to save 1.5 million plastic bottles by the end of 2020. Its small size allowed "for a more efficient use of space for both consumers within their cleaning cupboards and recycling bins, as well as on retailers' shelves".
EcoRefill was "a step-change in our approach to plastic within the homecare category" claimed Unilever VP for homecare Gemma Cleland. "This technology looks set to revolutionise the cleaning category for good."
Its launch reflects commitments within the Unilever Sustainable Living Plan to ensure all plastic packaging is fully reusable, recyclable or compostable by 2025.
It is the latest in a raft of eco-friendly household innovations from Unilever. In March, the company unveiled Cif Nature's Recipe, a range of cleaning spray made with naturally sourced ingredients and packaged in 100% recycled plastic.
Last October, Unilever announced the UK debut of Seventh Generation, the US eco-friendly household brand it bought two years ago for around $700m (£561m) – while the Anglo-Dutch company looks set for a UK rollout at the end of this year of Love Home & Planet, its plant-based household brand.