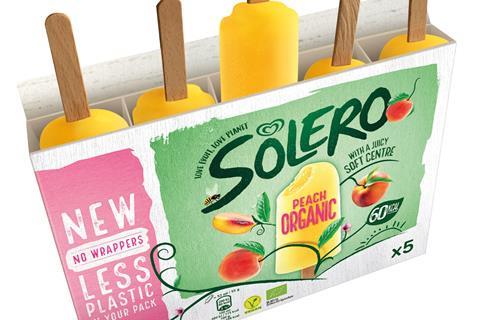 Unilever has unveiled a multipack for wrapper-free Solero ice lollies – hailing it as the first-ever sustainable ice cream packaging of its kind.
The innovation cuts plastic use by 35% by using five compartments into which 'naked' lollies are slotted. Made from polyethylene-coated cardboard, "the design ensures Solero lovers can enjoy the ice lollies without compromising on the quality" said Unilever.
The eco-multipack, which can be widely recycled in the UK, will be trialled from Monday (17 June) for Solero's recently launched Organic Peach variant via Ocado. It had been in development "for some time" and "could see a reduction of over nine tonnes of plastic based on current volumes" Unilever added.
The Anglo-Dutch supplier was "working hard to rethink plastic packaging for our ice cream ranges" said vice president of refreshment Noel Clarke. "If successful, and the feedback from customers is positive, this innovative pack could reduce the amount of plastic we use in the future to package our ice creams."
Wrap strategic engagement manager Helen Bird said the organisation was "really impressed with the level of innovation and creativity that Unilever, a founding member of the UK Plastics Pact, has shown in developing this new pack.
"It will be welcomed by shoppers who we know want to be able to recycle the packaging they bring home from supermarkets. We look forward to seeing the results of the trial."
The wrapper-free packaging is the latest move in Unilever's five-point Get Plastic Wise initiative – "a holistic approach to rethinking plastic" that focuses on reducing plastic use, using only recyclable materials and increasing use of recycled content, seeking alternatives to plastic, working in collaboration with partners for sustainable solutions, and helping consumers better understand actions they can take.
Unilever's goal is to ensure all its plastic packaging is reusable, recyclable or compostable by 2025.
Remeo Gelato adds 'plant-friendly' plastic pot
Elsewhere in the ice cream category, Remeo Gelato has also claimed a world-first for its new "planet-friendly" packaging.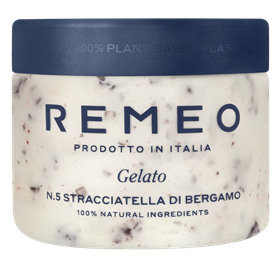 Comprising a 100% rPET pot with a bio-plastic lid derived from sugarcane, it meant the premium brand now had no oil-based virgin plastic in its production system, it said. The move had also halved the business' carbon footprint.
The new pack will be backed by the push ' I am Not a Virgin' to encourage other brands to abandon new plastic in favour of recycled and plant-based alternatives.
It arrived "in the era of the mindful consumer where the wellbeing of our environment has a huge influence on the way we shop" Remeo founder & CEO Jacopo di Vonzo. "Being environmentally conscious is no longer a nice-to-have, but an absolute necessity."
He added that the brand had considered a 100% biodegradable pot but " it would have massively reduced the expiry date and wasn't 100% safe".