Britain's biggest supermarkets are waging a war on plastic. After David Attenborough's Blue Planet II sparked widespread horror over the world's plastic waste problem in 2018, the big four set ambitious new targets to ditch it from their stores.
But that was before the pandemic hit, causing major disruption to supply chains and raising new challenges around plastic reduction. So as the UK throws off Covid-19 restrictions, are they still on track to achieve their plastic pledges?
Tesco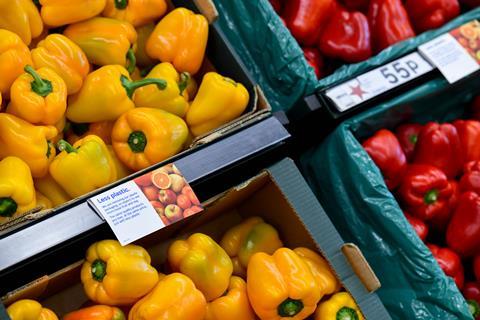 In 2019, Tesco pledged to remove one billion pieces of plastic from products for sale in UK stores by the end of 2020 as a part of a new 'four Rs' strategy (Remove, Reduce, Reuse, Recycle) to tackle the use of plastics across its business.
In December 2019 it announced it had achieved that target, after working with its suppliers to remove:
Plastic shrink wrap around branded and own-label tinned multipacks – eg soup, tinned tomatoes, sweetcorn – saving 67 million pieces of plastic per year
Secondary lids from yoghurts, fresh cream, picnic salads and baby wipes – saving over 100 million pieces of plastic
Plastic wraps from branded and own label greetings cards – saving over 44 million pieces of plastic
Small plastic bags used to pack loose fruit, vegetables and bakery items
Plastic from Christmas products and packaging – eg crackers no longer contain plastic gifts – saving over 300 million pieces of plastic
Plastic trays from sausage rolls and slices – saving over 24 million pieces of plastic
At the time, Tesco quality director Sarah Bradbury said this was "fantastic progress" given the challenges its own-label and branded suppliers had to contend with as a result of Covid-19.
And Tesco didn't stop there. In addition to removing single-use plastic pieces from its supply chain, it also reduced the amount of plastic used on the packaging for its fruit juices, crisps and cheese. In total, the supermarket reduced the size of its annual packaging footprint by 3,480 tonnes in 2020.
Tesco also became the first retailer to introduce recycled soft plastic packaging, launching a trial on cheese lines in September last year, and it launched an online reusable shopping service with Loop in 2020 – a service that's set to come to its physical stores this year.
So what next? Speaking in December 2020, Banbury pledged that: "Our work to Remove, Reduce, Reuse and Recycle will continue into 2021 – there is no place for unnecessary or non-recyclable packaging in our business."
So far, it's kept that promise. In May 2021, Tesco announced plans to ditch plastic rings and shrink wrap from its entire beer and cider range in a move it claims will see 50 million fewer pieces of unrecycled plastic produced each year.
It has also confirmed it will extend its extend its soft plastic recycling scheme nationwide – with hopes of collecting and recycling more than 1,000 tonnes of plastic a year.
Asda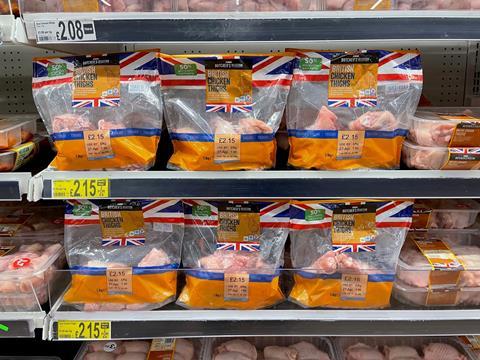 Asda also ramped up its plastic ambitions in 2019, when it brought forward its target to reach 30% recycled content in plastic own-label packaging to the end of 2020 – five years ahead of its original deadline.
The supermarket, which is pursuing a three Rs approach (Reduce, Reuse, Recycle) to plastic reduction, also pledged to slash the total amount of plastic used in its own-brand packaging by 15% by February 2021.
It's unclear whether Asda hit those targets. However, in its first Environmental, Social and Governance (ESG) report in May, the supermarket said it was on track to deliver a 15% reduction on a like-for-like product list by 2021 "having taken more than 9,300 tonnes of plastic out of more than 200 product ranges".
Asda's more recent target to remove three billion individual pieces of plastic by 2025 was also "off to a great start", the ESG report claimed. "In 2019, we sold 535 million fewer Asda brand pieces of plastic – that's the same as one item fewer in every customer basket."
Asda has announced several initiatives this year, including removing single-plastic bags from all its fresh produce aisles – saving more than 100 million pieces of plastic a year from its stores and ditching plastic trays across its entire fresh chicken range – saving 450 tonnes of plastic a year. "We're still working on viable alternatives to our heavier-weight reusable bags for life, that will maintain convenience for all shoppers," Asda's ESG report noted.
However, its most notable recent achievement in the war on plastic was arguably the launch of its ground-breaking 'sustainability store' in Middleton, which features banks of refill stations containing food and household staples that customers can dispense into their own containers.
Following a succesful trial, Asda is extending the format to another four stores, as well as adding new products to the refill stations such as petfood, snacking, desserts and baking products. This is not only an important development for Asda's own plastic-free strategy, but is helping brands achieve their own plastic reduction goals, says Nick Foster, sales & marketing director at Mars Petcare. "By partnering with Asda to trial this refill model we can learn what works best in-store for consumers and develop more sustainable practices as we work towards a circular economy."
Asda also launched a new Fishing for Plastic initiative in 2020, to help remove plastic from the sea around the UK and protect marine life.
Sainsbury's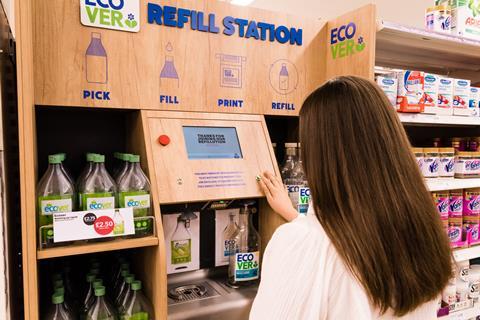 Sainsbury's also set itself new targets in 2019 – when it pledged to reduce plastic packaging across its branded and own-label lines by 50% by 2025.
It got off to a good start, reducing plastic packaging by 4.6% in 2019/20 to 114,463 tonnes against the 2018/2019 baseline of 120,000 tonnes, according to its latest sustainability update. However, that gap shrunk to 1.7% in 2020/21, when it used 117,959 tonnes of plastic packaging.
"Covid-19 has had a significant impact on our usage this year due to an increase in sales volume which has led to an increase in plastic packaging used overall," the supermarket said. "Therefore progress made in plastic weight reductions this year have been outweighed by the challenges of the pandemic."
Despite now being behind its "target trajectory", however, Sainsbury's is still determined to hit its 2025 target. It continued implementing its plastic reduction initiatives during the pandemic and has so far managed to remove: 290 million loose produce plastic bags; rigid plastic trays from tomatoes, courgettes, kiwis and baby corn (216 tonnes); plastic overlids from cream pots (114 tonnes); and zips from frozen fruit bags (28 tonnes).
In March 2021, Sainsbury's announced plans to remove 18.5 million plastic straws from its own brand lunchbox carton range. It is also removing the outer plastic wrapping from 11 products, saving 162 tonnes of plastic per year.
In addition to removing unecessary single-use plastic, Sainsbury's has also new lightweight packaging to reduce the total volume of packaging sold across its business. In 2020/21 it delivered an 86% reduction in pancake mix packaging and a 70% reduction in steak packaging. It has also trialled a new plant-based alternative for its own-brand teabags using polylactic acid (PLA) made from the sugars in cornstarch, cassava or sugar cane. The mass rollout this year will see 815m teabags a year moved from oil-based to plant-based plastic.
Elsewhere, Sainsbury's is working with Prevented Ocean Plastic to turn plastic collected from the coast into packaging for its strawberry and fresh fish range, removing 297 tonnes of plastic from entering the ocean each year. This year, it says 34% of fresh fish and 80% of its strawberry punnets will be sold using packaging made from plastic recycled from coastal areas.
Perhaps its most notable move, however, was introduction of flexible packaging recycling in stores. Having succesfully trialled the scheme in 63 stores, Sainsbury's is now rolling it out to 520 stores nationwide.
It has also been piloting deposit return schemes with reverse vending machines, and is also looking into refillable packaging options, having already trialled an Ecover refill station for dishwashing and laundry detergent.
Morrisons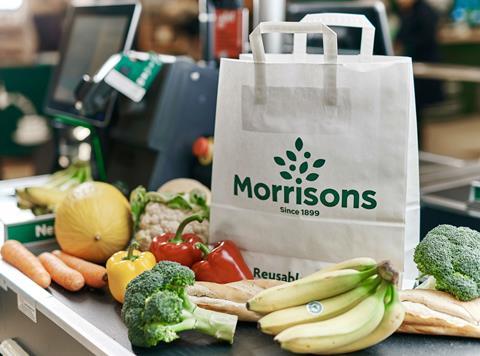 Morrions has set itself a target to reduce its own-brand plastic packaging by 50% and to make all own-brand plastic packaging recyclable, reusable or compostable by 2025. So far, it's reduced own-brand plastic packaging by 11% since 2017 and is "continuing to make good progress" on those targets, according to its latest sustainability report. Over the 12 months to November 2020, Morrisons removed 9,000 tonnes of "unnecessary or problematic plastic".
Perhaps its biggest move last year was a trial in eight stores to see whether it could viably remove plastic bags from its stores and replace them with sustainable paper-based alternatives. Following positive feedback on the trial, it's gearing up for a nationwide rollout in 2021 – which it estimates will remove approximately 3,200 tonnes of plastic a year. "Our paper bags can carry heavy weights up to 16kg and are 100% PEFC certified, meaning they are sourced from forests that are managed responsibly," it says. "They are also manufactured at an eco-powered site in Wales."
Elsewhere, Morrisons has removed plastic trays from fruit & veg including asparagus, carrots and tomatoes – saving 300 tonnes of plastic; removed secondary lids on many products such as 'The Best' coleslaw – saving another 80 tonnes; and started using cardboard wrap on multipack cans, such as baked beans and canned tomatoes.
It has also now completely removed glitter from products across all its own-brand ranges, instead using soluble inks, foil and paper reliefs to decorate Morrisons FSC certified paper cards. Last Christmas it introduced 100% plastic-free Christmas crackers.
Morrisons started a pilot scheme in Sheffield with local supplier Our Cow Molly in 2020, offering customers a 'return and refill' model for milk. So far, this has saved over 7,000 plastic bottles from being used, it says, and is "enabling customers to directly support local farmers". During the pandemic it also introduced water taps in all of its stores to "encourage customers to refill on the go". Having introduced dedicated areas to buy loose fruit & vegetables to 63 stores in 2019, offering up to 127 loose varieties, it extended the reach of this range to 332 of its 497 stores in 2020.
At the end of 2020, the supermarket also called on branded suppliers to step up the war on plastic, and revealed it would offer brands specialist advice in a drive to get plastic levels in their products' packaging down.
Covid-19 forced Morrisons to pause its refillable container scheme in 2020. However, it announced in May 2021 that it was bringing it back to fresh meat, deli and fish counters across the UK.
Morrisons is a sponsor of Odyssey Innovation's Net Regeneration Scheme, which is the only recycling scheme for all types of fishing nets in the UK. The startup works with fishermen to bring ashore previously lost nets that they have recovered during their fishing operations. "Since we started supporting the programme, over 100 tonnes of plastic netting has been recycled," it says.
Plastic Free July 2021: what it means for supermarkets and shoppers
1

2

3

Currently reading

What progress have the big four supermarkets made on their plastic pledges?

4

5

6

7

8