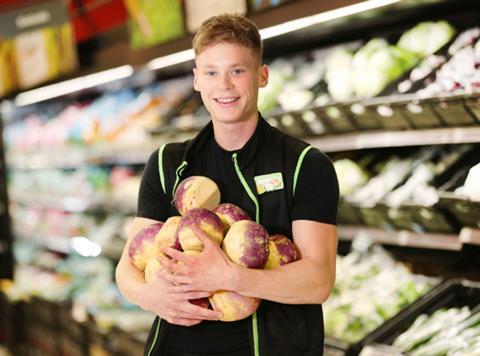 Asda has promised a rolling programme to remove plastic across a raft of produce on its fresh aisles, with swedes the first to have the packaging taken away.

The retailer announced today it was removing plastic from all its whole swedes, of which it sells almost six million a year.

Other trials are being carried out by Asda as part of its tie-up with packaging experts at Leeds Beckett University, with products such as asparagus among those in line to have plastic removed in the near future.
It follows a pledge by Asda CEO Roger Burnley, in February, that the retailer would slash the use of own brand plastic by 10% by February 2019.

Asda said it believed the shelf-life of the swedes would remain the same, with British-grown veg perfect for up to seven days.

However, Asda said it would not be following Morrisons' move, announced last week, to remove plastic sleeves from cucumbers.

Morrisons has ditched plastic packaging from all its loose, standard sized cucumbers, sourced from both the UK and Netherlands between March and October. Despite admitting it would reduce the shelf life of its cucumbers from seven days to five, Morrisons said its move would help cut out the use of 16 million plastic sleeves per year.

But Nikki Dixon, senior manager for plastic reduction at Asda, said the retailer had decided to hold back from such a move amid fears it would increase food waste.

"Extensive shelf life tests have shown that there is minimal difference in the shelf life of a wrapped or unwrapped swede, so the great news is that customers won't see any difference in the quality of their swede, or the freshness.
"We're currently scrutinising each and every piece of fruit & veg that we sell to see if we can do things differently - and where we can undress our fruit or veg, we're committed to doing so. It's a delicate balance, as our tests show that removing the plastic wrapping from some fruit & vegetables can drastically reduce shelf life and actually increase food waste.

"Unwrapped cucumbers lose three times more weight than wrapped due to dehydration, which leads to rubbery, yellowing cucumbers that are more prone to rotting and mould," she added.

"Equally, red and white cabbages are prone to moisture loss when the plastic shrink wrap is removed, resulting in a reduced shelf life of around two to three days, and ultimately a poorer-quality product.

"It's really important to Asda to make sure that we balance plastic reduction with food waste. We've made stretching commitments to reduce the amount of food that goes to waste and it's also a big environmental issue if the energy and resources used to grow food end up being for no benefit."