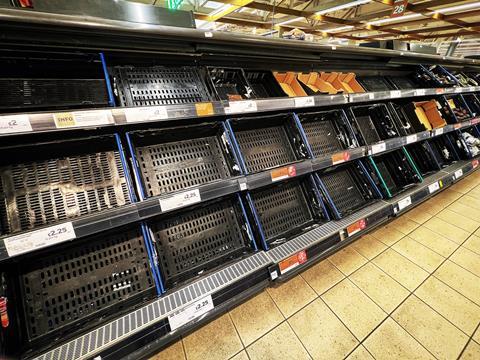 Industry representatives have urged the government to address the lack of a national food strategy in order to tackle food insecurity.
At a Westminster Food & Nutrition Forum on 10 May, several food heads criticised the government's decision to "walk away" from the majority of the proposals put forward by former food tsar Henry Dimbleby in his National Food Strategy.
NFU agri-foods policy delivery manager Jack Watts said on Wednesday morning that it was "important that government has a food strategy that reflects on the needs and recognises the sheer scale of the vulnerabilities that face our food systems", including climate change, increasing production prices and lack of support for agricultural innovation.
Inflationary issues
"The big disappointment for me, especially because of the inflationary issues going on at the moment, is government have essentially walked away from any kind of strategy for horticulture, but the broader food strategy as well," Watts said.
"Food needs to evolve and it needs to be iterative – it needs to move with the changing needs of consumers and also reflect the challenges that that industry is facing, so it's disappointing that we're moving away from a focus on a need for a food strategy."
Dimbleby delivered his NFS paper, the most comprehensive overview of the impacts of the food industry on the nation's health and environment, in July 2021.
Most of his more extreme measures such as a meat tax and a proposed crackdown on junk food advertising and HFSS promotions have now been either shelved or watered down, while a promised follow-up by former health secretary Sajid Javid never came to fruition.
Dimbleby recently resigned his role as an adviser and lead non-executive director at Defra over the government's "shocking" failure to address many of the challenges highlighted in his proposals.
Lee Stiles, secretary of the Lea Valley Growers' Association, also said during the forum that it was "disappointing for the whole horticulture industry that [a National Food Strategy] is not being pursued".
"The dire situation for food now requires a dedicated minister, possibly outside of Defra because there doesn't seem to be much food policy at all coming from Defra now. I think it needs to be separated and the situation needs to be taken seriously."
British Poultry Council CEO Richard Griffiths said a concrete food strategy from government was "essential" and that current iteration did not "go far enough".
"I don't think it's a strategy based on the actual needs for long-term food production."
Added bureaucracy
The Grocer reported last week that farmer confidence was at its lowest level since before the Covid pandemic in the face of rising costs and added bureaucracy.
The lack of confidence was affecting the horticulture, livestock and poultry sectors the most, the NFU said, and driving the raft of supermarket supply shortages seen in recent months.
PM Rishi Sunak has summoned farming and supermarket bosses to Westminster for face-to-face crisis talks next week as fears over inflation and its impact on food production have driven calls for government intervention in the supply chain.
Prominent members from trade bodies such as the NFU, the FDF and the BRC are also expected to attend.
However, it has now emerged that the so-called 'Sunak summit' conversations will mainly revolve around soaring supermarket prices.