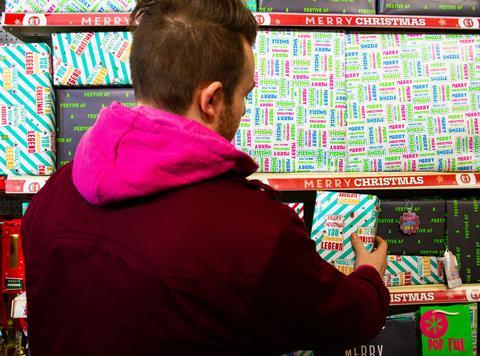 Poundland has introduced a "truly" Secret Santa aisle, stocked with £1 products which are already gift wrapped.

The initiative is aimed at workplace Secret Santa arrangements, in which everyone receives a gift from a colleague whose identify is not revealed.

Everything in the aisle is from Poundland's Christmas gift range, including novelty items such as inflatable crowns, back scratchers and stress balls, but customers have no idea what they are buying, according to Austin Cooke, Poundland's retail director for the UK and Ireland.

"For a lot of Secret Santas at work the idea is you only spend £1," said Cooke. "This makes it truly secret, so even you don't know what it is."

The gift-wrapped aisle was launched last week in a branch in Stratford, London, with a view to extending the idea to more stores.
"It's just Stratford to begin with but if the concept takes off it's something we'll absolutely do more prolifically next year," said Cooke.

"We want to do a kind of market test of how exciting the proposition is to the customer. I'm sure we'll have customers flock into the store to have a look at it. It could be a real goer for us in future years."

Poundland continued to see like-for-like sales growth and coming up with new ways to engage customers was key to that success, Cooke added.

"We like to be inventive because we have a big business that really has to have an entrepreneurial spirit and mindset to it.

"Just because you've got 834 shops doesn't mean you have to think like a big corporate machine. Being fleet of foot and inventive and playful for our customers is really key for our success and growth."