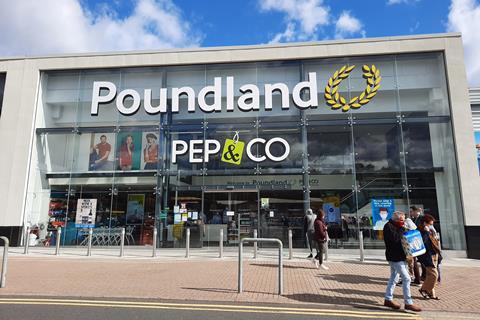 Poundland has agreed to take control of the leases of up to 71 Wilko stores, and plans to offer roles to Wilko workers at the sites.
The stores are expected to reopen under the Poundland brand in the fourth quarter of 2023, adding to its existing 800-plus UK estate.
On completion of the lease assignments – expected in early autumn – Poundland said it would prioritise recruitment for the stores with existing Wilko workers.
It plans to negotiate new lease terms with landlords ahead of the openings.
In the minutes following its announcement of the agreement with Wilko administrators PwC, Poundland tweeted to Wilko workers: "We promise we'll be working our tails off in the coming days to agree new terms with landlords so we can welcome as many of you as possible in those stores to our Poundland team."
We promise we'll be working our tails off in the coming days to agree new terms with landlords so we can welcome as many of you as possible in those stores to our Poundland team. 2/4

— Poundland (@Poundland) September 12, 2023
The news follows an announcement from PwC last night that all Wilko stores would close by early October, with more than 10,000 workers facing redundancy.
Poundland said the 71 stores had been chosen in locations where it had a limited presence, to complement its existing estate.
"In the coming weeks we will work quickly with landlords so we can open these stores as Poundlands with the new ranges that have been pivotal to our recent development," said Poundland MD Barry Williams.
"And once that process is complete, we will ensure a significant number of the Wilko colleagues will join our Poundland team.
"We know how valued Wilko colleagues have been in scores of communities across the UK and we look forward to offering them opportunities to join our family.
"We recognise the last few weeks have been difficult for them and we will move quickly to secure new consents from landlords so we can offer them the certainty they deserve.
"The Wilko stores will accelerate our existing transformation programme, offering amazing value for consumers, providing growth opportunities for suppliers and supporting employment in the high streets, shopping centres and retail parks customers love."
Andy Bond, executive chairman of Poundland parent Pepco Group, said: "The agreement to assign a number of Wilko store leases to Pepco Group will help to bring Poundland's value and wide offer to even more customers in the UK. It will be pleasing to offer employment to a number of Wilko's colleagues – who will benefit from being part of a successful and fast-growing pan-European variety discount group."
B&M last week agreed to buy 51 stores, but did not say whether Wilko workers would be given preferential treatment in applying for jobs at the sites.
Joint administrator Edward Williams said of the Poundland deal: "Alongside the previously announced agreement with B&M, we're confident this sale will create a platform for future employment opportunities for people including current Wilko team members at up to 122 locations. We will continue to engage with other retailers around any interest in other Wilko sites and are confident of completing a sale of the brand and intellectual property within the coming days."
The Range is reported to be in talks to buy Wilko's brand and online assets.
PwC's announcement of store closures yesterday came after talks over a possible rescure of 100 sites by HMV owner Doug Putman collapsed.
Wilko entered administration on 10 August, putting about 400 stores and 12,500 jobs at risk. It followed months in which the 93-year-old home and garden discount chain sought new investment, having already sold its Worksop distribution centre for £48m and secured a £40m two-year revolving credit facility from lender and Homebase owner Hilco UK.
PwC has named the following stores as included in the Poundland deal: Aberdare, Alfreton, Alnwick, Altrincham, Ammanford, Ashby, Barking, Bedminster, Beeston, Bicester, Bishop Stortford, Bletchley, Bolton, Brentwood, Brigg, Cambridge, Chepstow, Coalville, Cramlington, Droitwich, Eccles, Edmonton Green, Ellesmere Port, Ferndown, Gateshead, Grays, Greenock, Grimsby, Havant, Hayes, Headingley, Hessle Road - Hull, Hillsborough, Hitchin, Jarrow, Killingworth, Kimberley, Lee Circle, Leek, Leigh, Lichfield, Maidenhead, Matlock, Melton Mowbray, Nelson, Northallerton, Orton, Pembroke Dock, Peterlee, Pontefract, Pontypool, Redhill, Redruth, Ripley, Rugeley, Sale, Seaham, Selly Oak, Shrewsbury Darwin Centre, South Shields, Southport, Stafford, Stamford, Stockport, Thornaby, Wellington, Wembley, West Ealing, Wombwell, Worcester, Worksop.
PwC said the sites included in the B&M agreement remained subject to a confidentiality agreement.