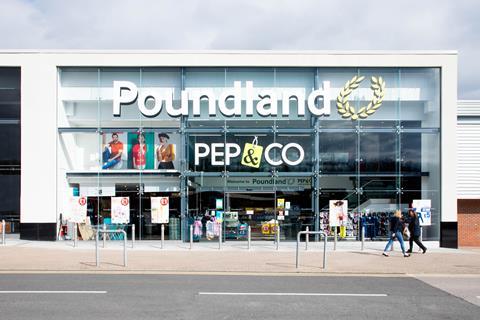 Poundland has set out why it plans to hold on to business rates relief after several major supermarkets announced they would pay theirs back.
The variety discounter argued it should not be judged on the same terms as retailers who saw business boom in lockdown "like the supermarkets or Amazon".
Supermarkets have so far agreed to refund almost £2bn to the treasury after Tesco's decision on Wednesday to pay back business rates relief saw Sainsbury's, Asda, Morrisons and Aldi quickly follow suit.
Poundland rival B&M also joined the list of retailers handing back the relief on Thursday. "Although significant uncertainty remains, the group believes it is now right to forego the business rates relief granted to B&M, which is approximately £80m this financial year," the company said in a trading update.
Responding to an enquiry The Grocer put to a number of major retailers, Poundland defended not doing likewise.
The business did not see the extraordinary levels of trade enjoyed by some during lockdown, because it traded largely on the high street where footfall had dropped by up to 40%, a spokesman said.
It led to the temporary closure of around 100 Poundland stores, the furloughing of staff and a cost restructuring, which "sadly led to the loss of around 100 central roles".
"It's hard to understate the importance of the rates holiday to Poundland to help protect its business, invest in the measures it put in place to trade safely and maintain employment," the spokesman said.
"Poundland is truly grateful for the help – navigating the last few months without it would have been difficult for them. That help has allowed them to emerge in a position to help build recovery and footfall on our high streets.
"Poundland remains of the view there needs to be a rebalancing of the cost of doing business between those online and supermarket retailers who were winners from Covid and able to pay large dividends, and those who continue to support the high streets that are important to communities."
Poundland is in the midst of implementing an ambitious transformation programme which saw it acquire Fultons Foods in October with a view to rolling out fresh and frozen ranges to 500 stores over two years. The high street discounter also recently announced plans to open seven UK stores by Christmas. Five are set to open this Saturday (5 December), in Dungannon, Colwyn Bay, Grantham, Sutton-in-Ashfield and Ashton-under-Lyne, the latter a relocation of an existing store.
B&M's trading update said in the first nine weeks of quarter three there had been improvement over the first half of the financial year in customer count and like-for-like sales growth. The group expected adjusted EBITDA for the twelve months to 27 March 2021 to be in the range of £600m to £650m, ahead of analysts' estimates.
B&M CEO Simon Arora used the update to also renew a call for business rates reform. "We request urgent reform of the outdated business rates system that is contributing to job losses across the retail sector and is acting as a deterrent to B&M and other potential occupiers taking up vacant space in many locations," he said.