Lockdown shortages forced shoppers to seek alternatives to their usual brands. So will they get a longer-term taste for own-label lines – especially as expected economic hardships make price a more important factor?
Gregg Wallace would be proud. For years, he has been banging the own label drum on his 'Eat Well for Less' programme. "Can you spot the difference?" he chirpily asks his guests every episode, as he reveals that he has swapped their favourite brand of cheese or ketchup for a cheaper, equally tasty own-brand version. Somewhat dispiritingly for Wallace, the advice always comes as a surprise.

So he may be pleased to hear that appetite for own label food and drink has gone through the roof. In March, sales of own label groceries shot up more than 20% to £5.6bn, according to Kantar figures.

Of course, this has little to do with Wallace's chirpy revelations - and far more to do with a certain global pandemic pushing up grocery sales across the board. But it could also take the premise of his popular taste test to a wider audience.

According to a behavioural survey by Shopper Intelligence, 44% of shoppers were unable to get the brand they wanted in the final week of March. That has forced them to swap their favourites for own label options, much in the manner of the 'Eat Well for Less' format. "If a private label product can deliver the same quality, it definitely could create a shift in behaviour," says Shopper Intelligence director Chris Adkins.

So could the pandemic trigger a further boost to own label? And how will the dynamics between retailer and branded ranges be affected as consumer confidence falls through the floor?

With or without the pandemic, own label has steadily been gaining ground for years now. Its value share of the grocery market crept up from 46.8% in 2012 to 52.7% in the latest full-year period, according to Kantar.

That's partly down to the rate of innovation, says Richard Harrow, UK partner of private label consultancy IPLC. "Private label has been very good at ensuring consumer trends are responded to quickly, from clean label to salt and fat reductions, healthier living, and the removal of black plastic," he argues. "It is the ability to respond so quickly to these trends that underpins its growth."
The discounter effect
And let's not forget the other crucial factor: the discounters. As Harrow points out, the own-label heavy Aldi and Lidl have enjoyed a meteoric rise in recent years. Their very premise challenges the notion that brands are of higher quality - as epitomised by Aldi's 'like brands, only better' slogan. In the past year alone, their private label sales have grown well ahead of the 2.7% market average. Aldi is up 8%, while Lidl has grown 10% [Kantar 52 w/e 24 March 2019].

That has forced supermarkets to rethink. "The big four have ramped up their private label to improve their competitive position," says Harrow. And while the launch of Tesco's Farms brands - a move later replicated by Sainsbury's - was a clear response to the discounters, the higher end is just as valuable, as evidenced by last year's revamp of the Sainsbury's Taste the Difference range.

Aldi's MD of corporate buying Julie Ashfield believes the concept of trading down to own label is now "old hat". And you can see why when you consider that sales of Aldi's Specially Selected range topped £1bn by 2018.

But there remain barriers to a wider uptake of retailer ranges. A key one is the idea of 'sleep shopping'. Kantar data shows around 75% of a shopper's basket is made up of what they always buy. Shopper Intelligence also hammers home this point. "I think people underestimate just how much of the regular grocery shop is autopilot, blinkers on," says Adkins. "That's the challenge when you are trying to get someone to try something new."
2.7%
Annual growth in the overall private label market, which is equal to that of branded [Kantar]
6.4%
Growth of premium own label , the fastest-growing tier in the market [Kantar]
20%
Growth in own label sales in March, as the pandemic hit home [Kantar]
44%
Shoppers who have been able to get the brand they wanted during the pandemic [Shopper Intelligence]
It's a particular challenge for retailers when trying to get shoppers to steer away from their favourite brands. "A lot of consumers see themselves as brand loyal in different categories like health & beauty or tea and coffee," says retail analyst Bryan Roberts. "There are people who will only buy Nescafé or PG Tips."

That's where the pandemic is proving a disruptive force. The bare shelves of March meant consumers could no longer afford to be so choosy about brands. And many of the categories that saw the largest spike during this period - canned goods, household and cleaning products and crisps - are highly branded. As these items sold out, many consumers were forced to consider own label options.

Roberts believes this has the power to change habits for good. "I think there might be a little bit of a road to Damascus moment for lots of shoppers," he argues. "A lot of people might be trying private label for the first time in certain categories, and might have their eyes opened. Some might revert back but I think they might say, why am I paying 20% more for something very similar?"
"The bare shelves of March meant consumers could no longer afford to be so choosy about their favourite brands"
That last point is particularly pertinent at this moment. Consumer confidence plummeted in April, veering close to the record lows seen in 2008, GfK reported last week. Although Aldi points out that own label is no longer seen as a 'trading down' option, it is generally a cheaper one. That could hold real sway as the economy deals with the fallout from the coronavirus.

"Whenever the economy is struggling, people look to save money - and switching to own label is a way of doing that," says Roberts. "We definitely saw that in 2008/2009."

Harrow believes this could already be happening. Although he admits it's "way too early" to see a real shift, shopping habits are starting to reflect the economic uncertainty. "We're beginning to get early signs that people are reverting to recessionary behaviours," he explains. "So people are scratch cooking, and anything to do with flour, eggs or cooking at home is flying off the shelves. Normally you would associate that behaviour with people moving into private label rather than brands."

The UK's highly developed own label market is well placed to tempt these shoppers, says Paul Foley, managing partner for Foley Retail consultancy and former CEO of Aldi UK & Ireland. "If there's economic hardship, own label generally does well - particularly when it has been developed to the quality of brands," he points out. "And that's definitely there, both in the discounters and the supermarkets."

Because even if consumers are minding the pennies, they still want a quality proposition. In fact, the coronavirus might make this an even more important attribute. Kantar data shows that, in the month of March, premium own label grew ahead of standard tier with a 21.6% increase in value sales. Granted, that is from a far smaller base. The premium tier was worth £353m in that period, compared with the £4.9bn might of standard tier. But it indicates that the momentum in premium own-label, for years now the fastest-growing tier, has not been lost.

Charlotte Scott, consumer insight director at Kantar, says top tier meat, chilled ready meals and pizza performed particularly well at this time. For her, that's down to two things. "There were probably quite a lot of empty shelves and people had to trade up," says Scott. "But if people can't go out, they are also potentially looking at how they can have a more luxury meal at home. So it will be interesting to see how that develops."

With Cabinet Office minister Michael Gove hinting that pubs, bars and restaurants could be "among the last to exit the lockdown" and possibly not before Christmas, premium prepared meals can offer the next best thing to the dining out experience. And sales in ready meals and the success of meal deals (Dine In was invented in the last recession) will be particularly closely watched amid evidence that scratch cooking has increased dramatically.
£55bn
Size of standard own label, the largest tier in the market [Kantar]
£62bn
Total value of the own label grocery market [Kantar]
£55.6bn
Total value of the branded grocery market [Kantar]
Iceland trading director Andrew Staniland believes the decline in restaurant dining will continue long after the lockdown has ended.

"Socio-economic uncertainty and recessionary trends will influence consumer behaviour in the same way as they did in the 2008 global financial crisis, with much less out-of-home consumption as discretionary spend is reduced," he says.

So it is more crucial than ever to keep the public engaged with innovative, high-end products. "Newness, innovation and differentiation will become more exciting to consumers," Staniland adds.

There is an obvious caveat here. Consumers may want innovation, but that doesn't mean it is easy to deliver in a global pandemic. Many food and drink brands have temporarily put NPD on ice - and own label isn't exempt. Staniland admits retailers are facing "challenges around the product development process in lockdown".

IPLC's Harrow is hearing plenty of stories about these challenges. "One company has put its whole NPD team into [furlough]," he reveals. "Innovation is all about talking to each other, so you've got to believe there will be a bit of a gap. At the moment, the retail side is just trying to keep things rolling and make sure people are fed."
"There is a caveat. Consumers may want innovation, but that doesn't mean it is easy to deliver amid a global pandemic"
Instead of a steady pipeline, the market has slowed to pockets of well-timed NPD. Take the launch of Aldi's very own vegan steak bake in mid-April, which could fill the hole left by the closure of Greggs branches. For Ashfield, that kind of product development is vital to the discounter's strategy. "We will continue to introduce new products to keep our offer fresh and interesting for consumers," she says.

The crucial point here is that Aldi's steak bake met a genuine consumer demand. Although innovation may not be as plentiful as normal, Co-op commercial director Michael Fletcher says retailers can win by focusing "on the things that matter to customers". That doesn't necessarily mean an entirely new product concept. "Equally important and rewarding will be finding affordable solutions to improve a category's impact on the environment, the support it provides for its extended supply chain and its broader impact on society," he says.

Health could be another timely influence. Two-thirds of consumers said they were either changing their diets, or considering making changes to be healthier and more sustainable, in an IGD survey in March. Own label could make a difference here, says Foley. "Innovation will cater for different habits. And I can't imagine the crisis will do anything other than push people along the road of less saturated fat, and more fruit & veg."

The sheer level of adaptability and innovation present in the own label market - in contrast with sometimes sluggish multinational supply chains - suggests it is well placed to take on that challenge. So here's our power list of the people who will shape that future.
Tim Murray
Director, Newton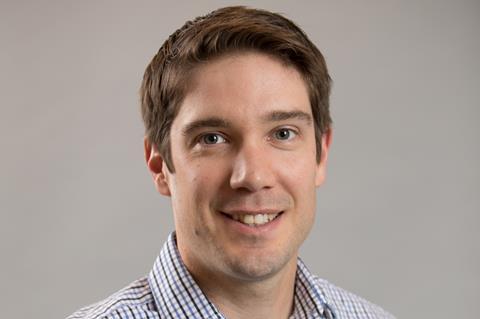 According to Kantar, private label makes up more than half of all grocery sales in the UK. That share could stand to increase.
If we are facing a long downturn and household incomes are squeezed, private label could be a significant winner as shoppers move away from more expensive branded products. And categories that have been enjoying recent growth, such as alcohol, baby products, confectionery and personal care, could continue on an upward trend.
Many see Aldi and Lidl's recent success as accelerating an already advanced private label market in the UK. Their collective market share has grown by 8.4ppts in the past 10 years to total 14.3%. In response, other retailers have been developing their own offerings. This ability to move volume between manufacturers has created several large, highly efficient and competitive suppliers. This power list, having both retail and manufacturing leaders, recognises the symbiotic relationship that exists between the two.
Michelle McEttrick and her team at Tesco have been relentless in their pursuit of an own brand range that tackles the rise of the discounters - one that both offers choice to customers and matches the discounters on price. But this work to grow the own label market wouldn't be possible without competitive suppliers like Ranjit Singh of 2 Sisters.
From recent discussions on both sides of the fence, making the interface between manufacturers and retailers 'frictionless' to speed up innovation and reduce cost will be critical. Companies that achieve this over the next few years will be the ones to secure a competitive edge.
Power List: the 10 most influential players in own label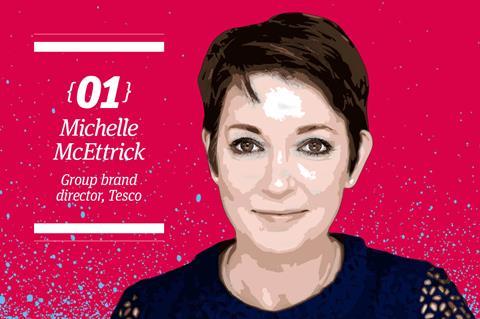 No one else could sit at the top of this list. As group brand director at Tesco, Michelle McEttrick heads up the largest own-label operation in the UK, with Tesco's own label business worth around £18bn – nearly a quarter of the market.
McEttrick has led this mighty operation for four-and-a-half years. Sitting on Tesco's customer team, she helps shape the branding, strategic quality and price positioning of the own-label offering, as well as having responsibility for Clubcard, customer plans, store design and brand expression.
It's not just Tesco's size that makes McEttrick worthy of top spot in this ranking. She has also been instrumental in developing Tesco's Farms brands into the 400-strong Exclusively at Tesco range it is today. Indeed over the past 18 months she has relaunched its entire own-brand range – over 10,000 SKUs – the biggest in the supermarket's 100-year history.
Although there has been plentiful criticism of Exclusively at Tesco – claims it is misleading consumers, and encouraging shoppers to trade down – there is no denying its significance.
Paul Foley, managing partner of Foley Retail Consulting, says the range "led the way for a fightback against the discounters" in the UK. "Tesco has become a case study for the rest of the world as to how a market leader defends themselves against the discounters," he says. "It hasn't blunted their sword completely, but Aldi and Lidl would be having a much easier time if Tesco had carried on doing what it was doing."
Combined with the new Aldi Price Match promotion, the latest Kantar numbers suggest it's even helped Tesco to outperform the discounters in the past month.
Tesco's agenda-setting efforts aren't confined to the value tier. Its Wicked Kitchen range, launched in 2018, was pioneering, and recently expanded into desserts and side dishes, and it's also proved vegan isn't a synonym for posh with Plant Chef, its 'affordable' plant-based range.
And let's not forget Tesco Finest. Over 1,000 lines, the range packs a real punch in terms of sales.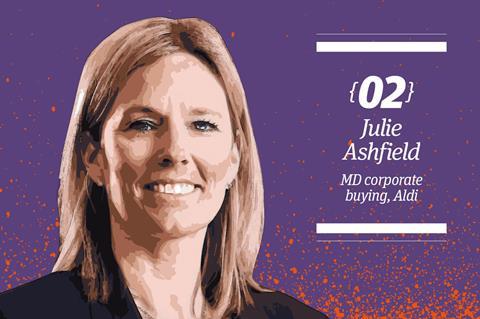 Here's a truly disruptive figure in own label. As the head of Aldi's corporate buying team, Julie Ashfield is in charge of what sits on the discounter's shelves. And, 30 years on from Aldi's entrance into the UK market, those choices are still shaking up the status quo.
The sheer dominance of own label – Aldi-owned brands make up 95% of its range –immediately gives Ashfield serious weight. At the same time, she is keen to hammer home the quality message that underpins its offer and disruptive status. "The reality is that many Aldi owned-brands are superior to the category brand leader," says Ashfield, who first joined the business as an area manager back in 1999.
The 'like brands, only better' promise does seem to be resonating with ever more shoppers. Aldi now holds 12.2% of the own-label market, and delivered 8% value growth last year [Kantar 52 w/e 22 March 2020].
As Ashfield says, that isn't just about delivering cheaper prices. More and more shoppers are coming to Aldi for quality. Indeed its high-end Specially Selected range has been a particular hit, with sales of over £1bn.
Granted, Aldi has come under fire for taking hefty inspiration from successful brands. Heck is just one name to have taken issue with a 'copycat' version of its product.
But one of the strengths of the discounter is that it "isn't afraid to push boundaries," says Richard Harrow, UK partner of private label consultancy IPLC. Seasonal innovations have included rocky road hot cross buns, a cheese made with prosecco and white chocolate, and a two-metre-long pig in blanket. Simple copycat it certainly is not.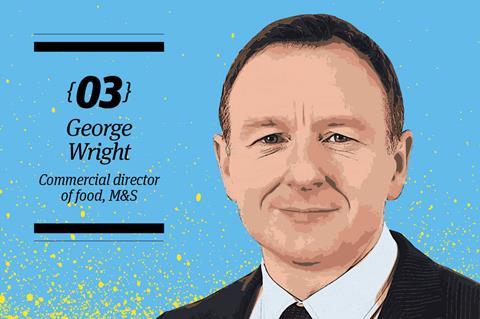 George Wright is no stranger to upheaval. Having played a crucial role in Tesco's Project Reset, he was drafted in to help M&S achieve a transformation of its own last spring. As commercial director of food, he was charged with sorting out its trading, making it more competitive and more adaptable. Given the heavy own-label slant of the business, that already made him a powerful player. But there's also the small matter of the M&S tie-up with Ocado this September, which will require not only extra volume but a raft of new lines to replace gaps in its offer that the Waitrose selection currently caters for.
As one industry source points out, it is "terrible timing", as the pandemic fuels unprecedented demand for Ocado orders – while rival Waitrose has been given an excellent practice run in how to deliver extra volumes.
Keeping the M&S innovation pipeline going, while taking the full range online, will pose a tough challenge. But if anyone can handle a difficult transformation, it's Wright.
He's also fortunate to be working alongside the likes of highly regarded food technology director Paul Willgoss and food product director April Preston. He will need all the help he can get.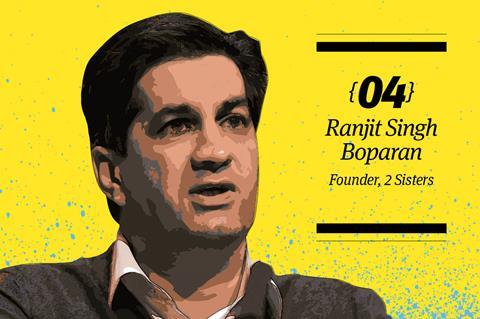 Dubbed the 'chicken king', Ranjit Singh Boparan is the undisputed titan of the poultry sector. With a string of high-profile own-label grocery contracts, his business supplies about a third of the chicken on UK supermarket shelves. One industry source describes him as the "last of the big poultry barons".
It is a massive operation. The international protein division generated revenue in excess of £2.3bn in 2018, and the UK market was named a particular source of growth.
Of course, Boparan took a hit to his business – and his reputation – following the food safety scandal uncovered by a Guardian and ITV investigation in 2018. The mogul was hauled in front of a parliamentary select committee to outline his response to the safety concerns, and stepped down from his CEO position after 25 years.
But at the tail end of 2019, amid positive signs of an operational and financial turnaround, Boparan returned to take day-to-day control of the poultry division.
These improvements and his renewed focus on the area of the business he understands best is particularly well timed given the pandemic. While 2 Sisters does have exposure on the QSR side with its KFC contract, the vast majority of its sales are in grocery, and own-label poultry ticks both the health and crucially the value boxes.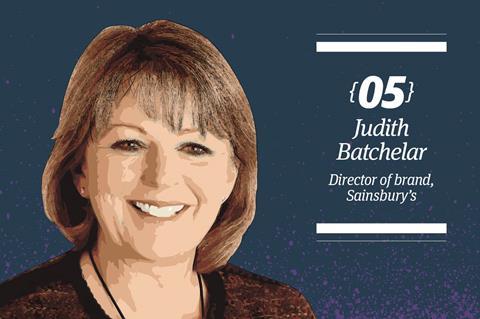 Judith Batchelar is "an industry legend", according to one supplier source, and a lynchpin of the Sainsbury's operation. As director of Sainsbury's brand, she is responsible for all aspects of the product offer – from policy formation on animal welfare, to product development and packaging, product safety, corporate responsibility and public affairs.
The size of the Sainsbury's own-label operation alone would make Batchelar a worthy entry on this list. But sources point out she has a huge influence across the wider industry too. She sits or has sat on numerous boards including Fairtrade, the MSC, Farm Africa and the Environment Agency.
As another industry expert puts it: "She knows everyone." And her work was recognised with the award of an OBE for services to food and farming in 2015.
Own label is no longer the sole source of differentiation within Sainsbury's, given the success of the Future Brands programme. But Batchelar has still led the way through some significant changes to the retailer offering. Last year, its top-tier Taste the Difference range was rebranded with a new logo and food photography, alongside longer product descriptions focusing on provenance and quality, and a new tagline: 'That's why you can Taste the Difference'.
Last year also saw the launch of Sainsbury's first tertiary brands, which drew inspiration from the success of the Exclusively at Tesco proposition. The copycat move could be seen as a sign of Sainsbury's losing its edge. "I think you might say they have lost a little bit of their mojo in private label," says retail analyst Bryan Roberts.
However, he still sees Sainsbury's as "a big innovator" – and a force that shouldn't be underestimated given its strong recent performance, the ramping up of its online operations, and the importance of own label in the current climate.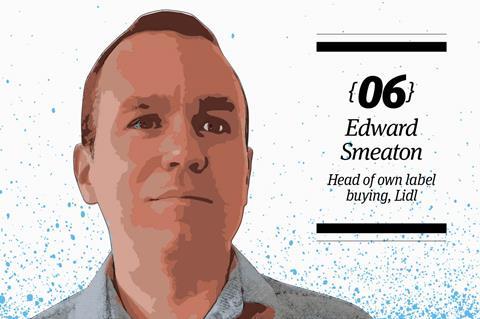 Lidl may lag behind Aldi in own label share, but it's making up for that with its rapid pace of growth. In the past year, own label sales shot up 10% [Kantar], the highest percentage gain in the entire market.
A key figure behind that growth is Lidl's long-serving buying expert Edward Smeaton, who assumed responsibility for the own label buying division 10 months ago.
Industry sources believe Lidl is one to watch. Roberts says the discounter has "matched Aldi step for step" with its high-end Deluxe range. Plus he points to its ongoing children's vegetable range – animal-themed fare includes Rad-fishes and Celery Storks – as example of highly innovative thinking.
Plus, let's not forget its successful work to position itself as a highly credible beers, wines and spirits retailer. The launch of Lidl's wine collections have become a calendar event, even in the pandemic – its latest spring collection will be marked by live wine and prosecco tasting on Instagram.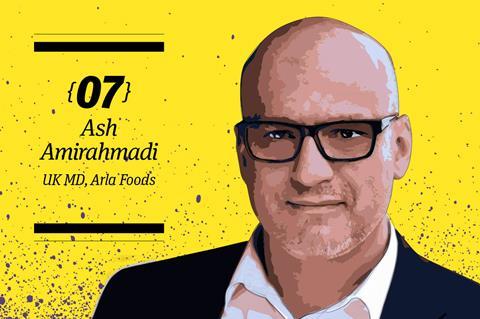 It would be easy to overlook Arla on this list. After all, the branded side of the business, including the recently acquired Yeo Valley milk, butter and now cheese, is performing exceptionally well and is a natural focus of attention. But Arla's private label operation is a massively influential force.
Perhaps that's because Amirahmadi doesn't see the private label and branded sides of the business as "separate agendas". Managing the balance is easier said than done, though, as you have to win the trust of retailers. But Amirahmadi has done so deftly since taking over from Tomas Pietrangeli in the top role in 2018.
Dairy UK CEO Judith Bryans also highlights his "progressive forward vision" for the dairy industry.
"What really shines through to those who work with Ash is his passion, big vision and dedication to the sector, and his strong commercial acumen," she says.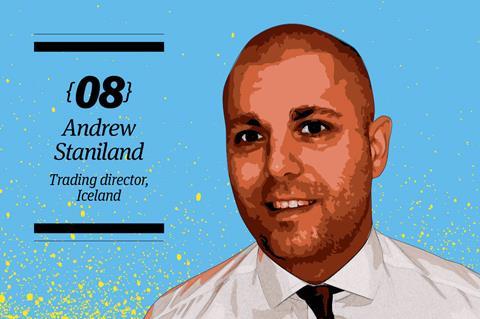 A fresh convert to frozen, Andrew Staniland joined Iceland from Aldi in 2019. And he's been banging the frozen drum enthusiastically ever since. "It's fresher and better value than the fresh market equivalent," he says.
That passion is vital to his role. As trading director, he oversees the development of Iceland's trademark frozen own-label offering, managing key figures such as head of product development David Lennox.
It's this focus on innovation that has won Iceland particular acclaim among industry sources. One senior industry source says Staniland's leadership has "made it more credible to shop there".
Most notably, Iceland introduced more than 550 new or improved products in September, in what the frozen food specialist called its biggest-ever own-brand shake-up. Moves such as these have enabled Iceland to "claim that frozen area as their own", says retail consultant Foley.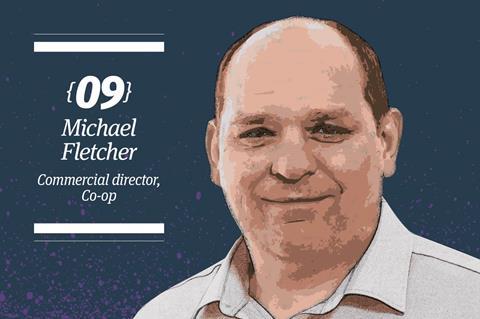 How the Co-op has changed since Michael Fletcher joined back in 2013. As Roberts puts it: "Five years ago I didn't think I would be saying anything remotely positive about the Co-op." The sheer level of transformation since is a "minor miracle" and crucial to the turnaround has been the improvement in the quality of the offer – across every category – under Fletcher's watch.
Industry experts are unanimous in praising the revamp of Co-op food and drink, which is now a leading force in quality and innovation. Indeed, its own label offer is now growing ahead of the market at 4.9% [Kantar].
For Roberts, the Irresistible premium range is "absolutely incredible". IPLC partner Richard Harrow points to the success of its own-label pizzas too. But Fletcher says its truly distinguishing feature is "our whole-hearted commitment to sourcing our products in a way that supports the environment, human rights and animal welfare".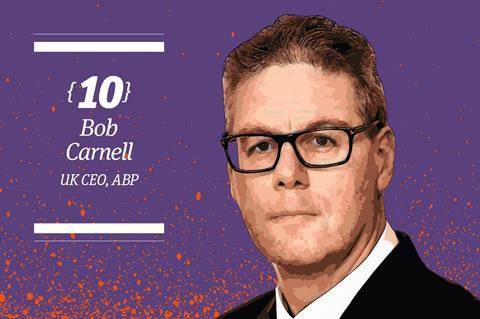 Presiding over the UK arm of a major international red meat giant – one that turns over €3bn (£2.6bn) a year – would be enough to secure Bob Carnell a place on this list. The business counts Aldi, Sainsbury's and Asda among its customers.
But it's not just Carnell's influence in the red meat sector that makes him a key figure in own label. Having forged an illustrious 24-year career at Kerry Foods, where he rose through the ranks to become MD, one supermarket commercial director singles him out for the huge amount of clout he has in own label circles generally. "Bob is excellent and surprisingly influential among other own-brand companies," says a senior industry source.