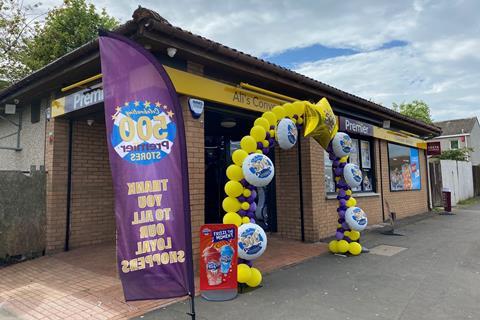 Booker has gained 150 Premier stores in Scotland since 2021, marking the symbol group's fastest two years of growth in the country.
Sales director Martyn Parkinson said it intended to keep up recruitment by incentivising Scottish retailers with a chance to win a drinks-to-go Refresh station worth up to £10,000 if they joined Premier in the next six months.
Visited by The Grocer this week, its latest store re-opened in Tranent, East Lothian last month following a £210,000 refit, and is owned by Anila and Zulfiqar Ali.
Named the 500th Premier store in Scotland, it features 3,000 SKUs and has been remodelled with a Refresh station, beer cave, ESLs, more efficient refrigeration, and a wider range of fresh produce, growing from 70 to over 300 lines.
It also has a strong presence of local suppliers, using 13 out of Booker's 52 Scottish local suppliers overall.
Unique market
"Scotland is a very unique market, and plays really hard on local products," said Parkinson. "So we've taken learnings from our Premier Talbot store in Bournemouth to see what would work in this store and then overlaid it with lots of local products. Doing all that with a 1,400 sq ft has been a challenge, but the model is proving that it works and attracts footfall."
Since its opening, the store's sales have gone up by 50%, while margin has increased by seven percentage points. Booker expects payback for the retailer's refit will be fulfilled in 10 months.
Parkinson said it was marking the latest launch with upweighted promotions, mega deals and free giveaways across the rest of the Scottish Premier estate, including giving shoppers the chance to win £1,000 in holiday vouchers.
The symbol group is also planting 500 trees in Scotland and donating 500 family meals via FareShare as part of the celebration.