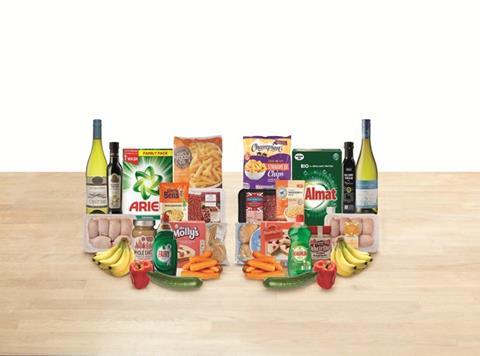 Aldi and Lidl have launched counter-offensives against Tesco's claim in a newspaper ad that it's now cheaper than the two German discounters.

In a series of press ads, Aldi claimed a typical basket of Aldi goods was 35% cheaper than a comparable basket from Tesco.

Fellow discounter Lidl has also launched an advertising blitz today, under the strapline 'Every Lidl helps'.

The moves by the discounters come days after Lewis told analysts that Tesco was now cheaper than Aldi and Lidl due to the competitive prices of its 16 'Exclusively at Tesco' brands.
Aldi has rubbished the claim and said the comparisons used by Tesco did not reflect an average shopping basket.

Its ad compares the price of 14 items in a Tesco and Aldi basket, including brands at Tesco as well as its discounter range. Based on those 14 products, which include chicken, bananas, washing-up liquid and chips, Tesco's basket comes to £31.86, with Aldi's much cheaper at £20.69.

"The significant price gap between Aldi products and those of our competitors is long-established and consistently proven," said an Aldi spokeswoman.

"In the latest Grocer 33 analysis, Aldi was an average of 22% cheaper than other supermarkets. Our latest advert is a continuation of our Swap and Save campaign, which shows just how much shoppers can save by switching to Aldi."

Lidl's campaign (below) claims a typical trolley of products would be 30% cheaper at Lidl than at Tesco.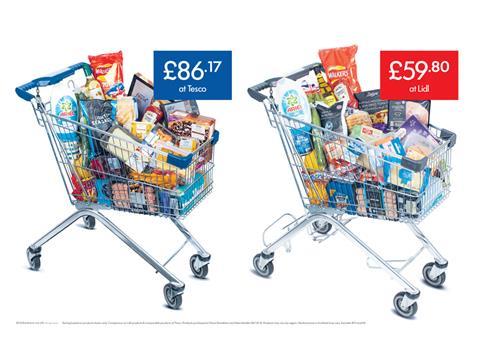 "Lidl customers have consistently benefitted from unbeatable prices for over 24 years, making significant savings on their shopping, each and every time they come to one of our stores," said a Lidl spokesman.
"By staying true to our discounter DNA, we continue to maintain an unparalleled quality-value combination, which cannot be matched. This has been demonstrated time and time again through our highly successful 'Big on Quality Lidl on Price' campaign."
Tesco's ad campaign was launched last week in tabloid newspapers with claims a basket of discount lines was cheaper than at its German rivals.

The ad claimed a basket of 12 items, including products such as whole chicken, apples and cheese, came to £11.56 at Tesco, £11.87 at Lidl and £12.30 at Aldi.

Tesco has also launched a major new in-store campaign to promote its discount brands.

Last week Tesco chief executive Dave Lewis claimed the supermarket was cheaper than Aldi and Lidl based on a basket of 26 Exclusively at Tesco products, its new value tier range, together with milk and bananas, with its basket focused on fruit & vegetables as well as meat, fish and poultry items.

He said its basket, as of 24 September, came to £30.58, compared with £32.41 at Aldi and £32.68 at Lidl.

"We're not just price-matching, actually we're price-beating and the time has come to start communicating that to customers," Lewis claimed.