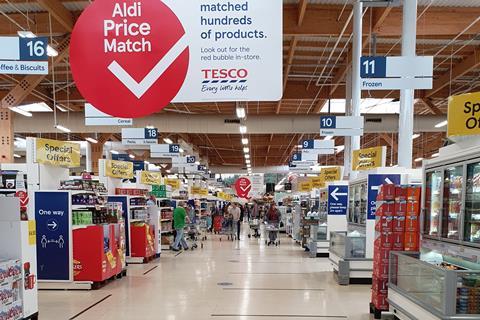 Tesco and Aldi appear to be heading for a repeat of last year's bust-up, which saw the ASA intervene in their price war.
The Grocer understands tensions are running high between the retailers after Tesco launched a heavyweight marketing campaign in support of its Aldi Price Match strategy.
As The Grocer revealed last month, Tesco has expanded the campaign to include 500 branded and own-label products. It gave suppliers an 11 July deadline to drop their prices to Aldi levels.
The new controversy surrounds claims many of the branded products in the campaign are not part of Aldi's core range, while the Tesco own-brand products featured are of differing specification to Aldi's.
As well as giving rise to claims consumers could be misled, the campaign is understood to have raised the hackles of suppliers, who are under pressure to drop their prices to match what they claim are unfair comparisons.
One source said: "A lot of the brands included are not part of Aldi's core everyday range and are largely products it has sold as 'Specialbuys'.
"For example, Tesco's campaign features Silver Spoon sugar and Mug Shots. Silver Spoon has never been sold in Aldi and Mug Shots have only been Specialbuys."
It is understood Tesco has been called on to provide more details on its website of how it justifies its price comparisons.
Tesco said products were either matched against comparable Aldi ones or identical branded ones. It said prices were matched twice a week in a sample of Aldi stores, and Mug Shots had been captured consistently in its audits during the past month. Silver Spoon had been compared to the price of an Aldi equivalent, it claimed.
The two supermarkets have a history of raising complaints about each other with the ASA. Last September the watchdog found Tesco had misled consumers after Aldi lodged complaints about a series of press and television ads.
Earlier in 2019, Aldi ads comparing prices with Tesco were deemed misleading by the ASA.