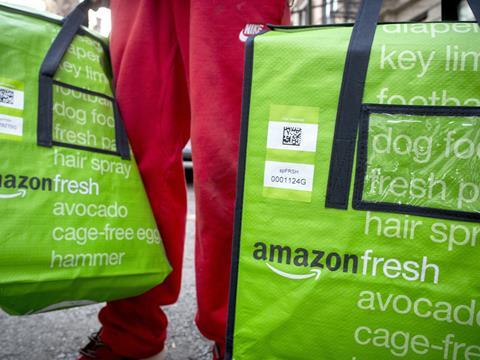 Amazon is offering the cheapest price on 33 of the 44 chilled and frozen lines introduced in an enhanced Amazon Prime Now trial that kicked off in the Birmingham area this week.
The trial, exclusively revealed by The Grocer earlier this week, comprises 44 branded lines - from Activia yoghurt to Young's cod fillets - and represents the first steps by the online giant towards the launch of Amazon Fresh, which is now expected to launch next year.
Exclusive analysis for The Grocer carried out by Brand View shows Amazon was the sole or joint cheapest on 33 (or 75%) of the items, and exclusively cheapest on six of the lines - by both measures more than any other online retailer.
Amazon's closest competitor on price was Asda. On the 42 lines where a price match could be found, it was 6.2% more expensive, followed by Tesco's (8% on 41), Ocado (13.8% on 40), Sainsbury's (14% on 38), Morrisons (15.5% on 38) and Waitrose (21% on 34).
Lidl was 3% more expensive on the seven brands it stocked. Aldi only stocked one, the Kingsmill loaf, where it was matched by Amazon. And of course neither Aldi nor Lidl currently offer an online grocery service.
When comparing only the 27 products all seven online grocers quote, Amazon was even cheaper.
Asda was 19.4% more expensive, then Morrisons (20.5%), Sainsbury's (23.9%), Tesco (29%), Waitrose (29.8%), and Ocado (29.9%).
"The first method is more robust but the large pricing differential using the second summary is interesting considering products stocked by all retailers are arguably likely to be the most popular," said Brand View marketing director Dave Howard.
All the prices quoted do not include delivery charges. The Amazon Prime Now service, which launched in July, promises a one-hour delivery slot for £6.99 or a same-day two-hour delivery slot for no extra cost.