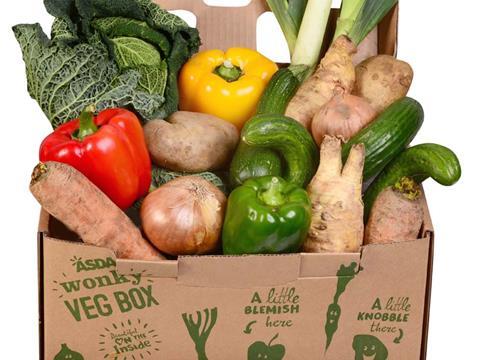 Asda is set to expand its trial of wonky veg boxes to more stores and in greater volumes within the next few weeks after receiving "amazing feedback from customers".

Asda launched a trial selling boxes of misshapen winter veg at 128 locations on 5 February, after a challenge by Jamie Oliver and farmer Jimmy Doherty to extend the wonky veg range it launched last January.

Each store in the trial sold 20 boxes, with each 5kg box costing £3.50 and containing a mix of carrots, potatoes, peppers, cucumber, cabbage, leeks, parsnips and onions. According to Asda, the £3.50 price meant the box was 30% cheaper than standard Asda veg lines.

The trial had gone down very well with customers, and Asda would now roll out the scheme to more stores, said a spokeswoman.

The boxes had sold out when The Grocer visited an Asda store in Burgh Heath in Surrey on Tuesday (9 February), and generated a lot of interest from shoppers, a staff member said.

Asda sources the veg for the boxes from its existing suppliers. "Asda speaks to its farmers on an ongoing basis and finds out exactly what they have in high wastage volumes to ensure we're taking produce that would otherwise go to animal feed, or in the bin," said the spokeswoman. "We're working closely with them to roll this out in more stores and higher volumes during the next few weeks."

Sales of wonky fruit and veg had risen steadily over the past year, said Asda technical produce director Ian Harrison. However, it "only solves one part of the food waste puzzle", with the retailer also working with growers to be more flexible with produce specifications.

Waste group Feedback said the initiative could change perceptions on waste. "But we also need retailers to reduce waste in their supply chains."
Update: 18 February 2016
Asda today confirmed the wonky veg trial would become a "permanent initiative".
The retailer has now committed to putting 10,000 boxes in 550 stores, at least once a month, resulting in at least 500 more tonnes of waste produce being taken from farmers by the end of 2016, it said.
"We've been absolutely overwhelmed by the response to our wonky vegetable box and think it shows just how conscious our customers are of food waste, particularly in the produce aisle," said Ian Harrison.