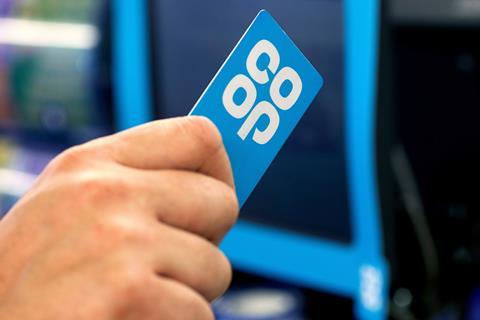 The Co-op insists regular shoppers will be better off under its revamped membership scheme, which aims to double the amount of money donated to good causes.
Under the new model the Co-op is scrapping its 5:1 proposition, launched in 2016. That system saw members receive a rebate of 5% on all own-label products purchased, with the society donating a further 1% to local charities or community groups as chosen by each individual member.
From this week, Co-op members will get back 2p for every £1 spent on own-label lines, while the society will also now donate 2p in every £1 spent on Co-op products and services to local causes. On top of this, Co-op will be running member-only promotions in-store for the first time. Members can also use two personalised deals every week that will be sent via the Co-op app and based on their shopping patterns.
Plus, they will have access to benefits from other business areas including funeral care, legal and insurance.
Co-op said top-spending customers could save 150% more under the new proposition by combining the biggest discounts along with the 2% own label rebate. Combining the rebate and the personalised offers could save almost £10 more per month than under the previous scheme, it said. This did not include the savings available through the member-only in-store offers, it added.
The society also said it was increasing its employee discount to 20% on Co-op branded products and 10% on brands.
"The Co-op was founded to share the value we create with our members and with their communities," said Co-op chief membership officer Matt Atkinson. "Refreshing our membership offer will allow us to do both of these things in a much bigger way. Since 2016 the community reward has generated £70m of community investment, and now we are doubling the amount. With our members' help we can do something very significant for our local communities, whilst also giving bespoke, personalised value to our members with offers designed to better meet their needs."