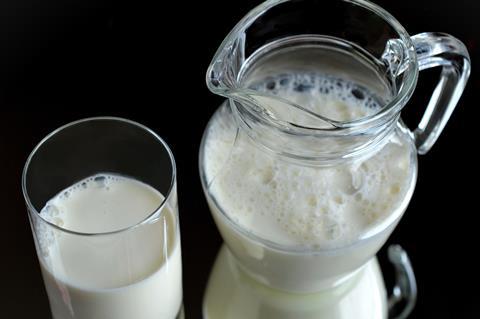 Supermarket milk and milk alternatives are getting more expensive, with average shelf prices up 2% year on year across the leading multiples.
Prices have risen across own-label and branded SKUs, with leading fresh milk brand Cravendale subject to hikes in all five of the UK's top grocers over the past few weeks [Edge by Ascential 52 w/e 29 October 2019].
Sainsbury's has put up prices across a swathe of Cravendale SKUs. One-litre packs of the brand's whole, semi-skimmed and skimmed milks are up from £1.10 to £1.15, while two-litre SKUs are now £1.90 from £1.80. It comes after the three-litre pack of Cravendale semi-skimmed milk rose 35p in October to £2.70 at Sainsbury's.
"The cost of individual products is determined by a number of factors and prices can fluctuate, both up and down, as a consequence," says a Sainsbury's spokesman. However, the retailer remains "committed to providing our customers with great quality and value every time they shop with us" he stresses.
Cravendale owner Arla has also seen its two-litre bottle of Arla BOB milk go up in price in the mults recently. It is £1.75 in Morrisons and Tesco, which have added 25p and 20p respectively, and £1.79 in Waitrose, following a recent 19p hike. A spokeswoman for Arla says the dairy co-op does not comment on prices at the supermarkets "as these are set by our customers".
However, there are "many factors which can impact milk prices at both a global and local level, and our industry contends with significant levels of volatility" she stresses.
"Through our branded agenda and European co-operative model, we are striving to find ways to increase the value of our owners' milk and mitigate volatility, as demonstrated through the conventional milk price to Arla's owners remaining unchanged for the past 10 months."
In milk alternatives, category leader Alpro has seen 13 SKUs increase in shelf price over the past 52 weeks, mainly in Asda and Morrisons. Its one-litre Almond UHT in Morrisons is now £1.80 after two 10p rises.
Other Alpro lines now more expensive in the mults include one-litre packs of Chocolate Soya UHT, Original Oat and Soya Wholebean Unsweetened, with increases as recently as early October in Waitrose. Alpro was not available for comment.
However, Innocent, which has seen its 750ml bottles of milk alternatives go by up 1p in Asda and Waitrose to £2, says: "Our rrp for our dairy-free range is £1.99 and has been since we launched."
The price increases come as value sales in the overall liquid milk category have increased over the past year despite relatively flat volumes. Take-home sales in grocery are up 3.9% to £3,246.6m, while volumes have risen just 0.1% [Kantar 52 w/e 19 May 2019].