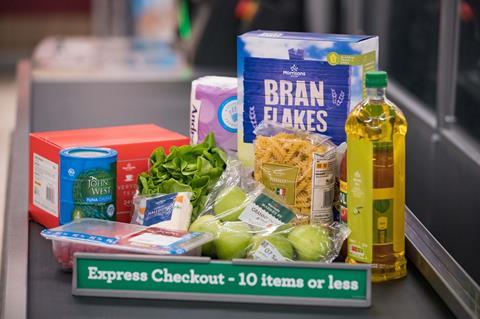 Morrisons is slashing prices across hundreds of products, and is cheaper on over 50% of comparable lines in Asda's latest rollback, new research for The Grocer shows.
CEO David Potts announced the cuts on Monday, with over 400 products including fruit & veg, meat and poultry, bread and cereals, rice and pasta and household products, slashed by an average of 23%.
Analysis for The Grocer by Edge by Ascential shows Morrisons' cuts have focused mainly on its own-label range, with only 20% of cuts on branded items.
The analysis found that, on many comparable lines, Morrisons was now cheaper than its rival, which Asda denies.
Of the 376 products Morrisons has cut prices on, 29 are also included in the Asda rollback, which has seen price cuts on thousands of its products as part of a £100m investment.
Read more:
Seventeen of these 29 products were cheaper than Asda's post-rollback price, with five the same.
A dozen of the lower-priced items at Morrisons were branded, including John West tinned tuna, Dolmio cooking sauce and PG Tips teabags.
The price offensive comes just a week after Asda's rollback.
"Morrisons appears to have used this time to make sure it is competitive against Asda," said a spokeswoman for Edge by Ascential.
Morrisons COO Trevor Strain said it was determined to remain competitive, despite fears over rising supplier costs and the threat of Brexit-related price hikes.
"Our pricing position is very important to us," he said. "Those prices that we dropped in the first half of last year are all still in place. Providing value is going to be vital."
Strain was speaking this week as Morrisons posted an 8.7% increase in like-for-like sales for the six months to 2 August. However, pre-tax profits fell 23.5% to £148m as it faced £62m of Covid-related costs.
A spokesman for Asda said: "We currently have thousands of products on rollback and the majority of these are at market leading prices.
"As this research is based on a comparison of just 29 Asda products out of the thousands of rollback offers, it is clearly not a reliable or accurate indication of our pricing position."