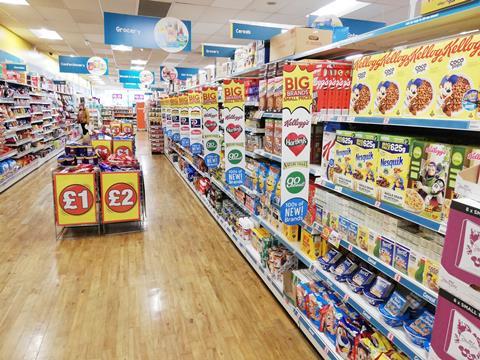 Poundland is set to roll out a new wider range of price points from 50p upward across its whole store estate next month.

The variety discounter introduced the new price points in a 24-store trial in August, adding 50p, 75p, £3, £4 and even £10 products to the range. They joined the existing line-up of products at £1, £2 and £5.

Now all 800 Poundland stores across the country are to get the new multiple price points in time for Christmas.

"We're actively training and preparing now and will have it live in stores by the middle of next month with some marketing shortly after," Poundland transformation director Mat Ankers told The Grocer.

The new products are all fmcg, in household, health & beauty and grocery ranges. In the trial, Poundland has not only introduced lots of products at the new price points but also substantially grown the range at existing price points, especially in grocery, focusing on big brands.
Poundland in Walsall, one the 24 Midlands stores in the trials, has added more branded cereals, such as Chocolatey Cheerios, Kellogg's Crunchy Nut Clusters and Honey Monster Wheat Puffs for £2.

Other additions include Cup-a-Soups and tins of Heinz Baked Beanz at 50p, and new tins of Napolina tomatoes at 75p. Products at the new higher price points include bulk boxes of Ariel, Fairy and Bold washing powder at £10.

The move is part of Poundland's change from a "single price" to a "simple price" retailer, Ankers said, a transformation that began in 2017 when the original £1 line-up first grew to include £2 and £5.

Other measures in Poundland's transformation programme include its first frozen food range, launched earlier this month as a pilot in Ashbourne, Derbyshire, and set to be extended to four more stores by November. It's thought that trial, which also introduces new chilled and fresh ranges, could extend to about 250 stores in the longer term.

The frozen ranges will roll out in "shops in shops" - how Poundland bills its in-store Pep&Co clothing outlets, which it is also looking to extend from 300 stores to the entire estate.