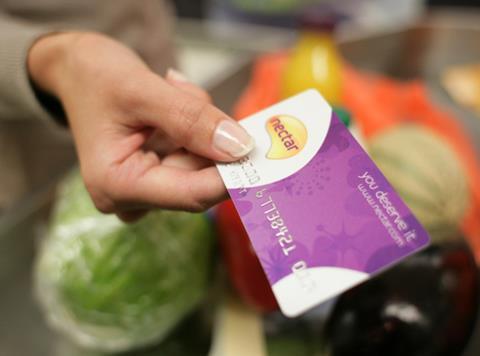 Sainsbury's is incentivising customers to use its SmartShop app by rewarding them with five times their normal Nectar points.
The promotion kicked off on Friday and will run until 22 November.
Customers need to spend a minimum of £15 to earn the reward, and it is only valid for one transaction per Nectar account. Customers will receive their bonus points within 48 hours of completing their shopping.
The move is one of several Nectar point-led initiatives Sainsbury's has introduced in recent months. It doubled the number of Nectar points customers could earn between 11 and 17 November in a bid to kickstart early Christmas sales, and rewarded shoppers with points for purchasing fruit and veg through its Great Big Fruit & Veg Challenge. This ran from 7 September until 4 October.
It also follows the retailer accelerating its rollout of the technology to "the majority" of its store estate "in time for Christmas".
SmartShop is already available in all Sainsbury's supermarkets, and it will extend this to "most" of its 770 convenience branches by the end of the year.
The system allows customers to scan and pack products as they shop, and is accessible through handheld devices available in supermarkets or an app on customers' mobile devices. It is designed to make shopping more convenient for customers and minimise interaction between shoppers and employees.
Sales through SmartShop have exceeded 50% in some stores and 37% of total sales across the retailer's estate in the past quarter.
Sainsbury's said it has introduced the incentive to encourage shoppers to make use of the technology to "shop in a safer way" during the coronavirus pandemic.
"We're continuing to look at new ways to reward our customers in the run-up to Christmas," a spokesman for the supermarket added. "This offer will enable customers to kick-start their Christmas shop in a safer way, using SmartShop to earn extra points on their festive essentials."