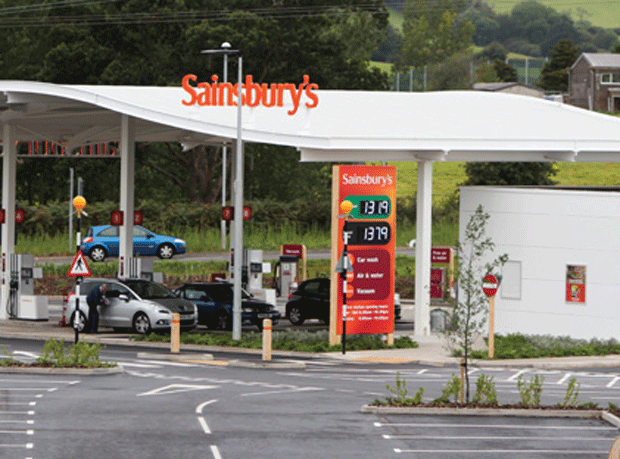 Petrol prices are set to fall again for consumers at supermarket forecourts as Sainsbury's kicked off a new round of price cuts.
The retailer said yesterday afternoon it would cut the price of unleaded petrol and diesel by up to 5p per litre across its 294 forecourts from Tuesday morning.
"We always aim to offer our customers the very best value on everything we sell and our latest drop means that millions of motorists across the UK can save money when they fill up with Sainsbury's," said Avishai Moor, Sainsbury's head of fuel.
Asda, which often leads on price cuts on the pump, responded by announcing it would lower its national fuel price cap. It said yesterday motorists would pay no more than 128.7p per litre for diesel and 124.7p per litre on unleaded at its 232 filling stations from Tuesday morning.
"With this latest price cut we're now seeing some of the lowest fuel prices around," said Andy Peake, Asda's petrol trading director.
Tesco matched Sainsbury's price drop on Monday evening, announcing a cut of up to 5p per litre at its 500 petrol stations from Tuesday. The cut is in addition to savings customers can make through Fuel Save, a scheme that allows Clubcard holders to save up to 20p off a litre.
"The wholesale price of both petrol and diesel has been low for around three months and as a result motorists have been enjoying some of the cheapest prices for over three years, but this cut will take us to a new low, the likes of which we haven't seen since late 2010, early 2011, when the price of petrol and diesel unfortunately jumped by 10p a litre in just a few months," said RAC fuel spokesman Simon Williams.
Williams added that a rally in the pound since the Scottish referendum had helped push down fuel prices.