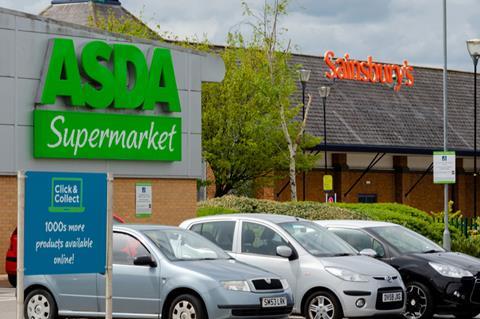 Asda has claimed yet another Grocer 33 pricing win after narrowly edging out its proposed merger partner Sainsbury's.

Earlier this week, Sainsbury's and Asda sought to get their merger back on track by pledging to deliver £1bn of lower prices by the third year post-completion. This would be based on £300m in the first year and a further £700m over the following two years.

This week Asda was just 38p cheaper than Sainsbury's at £57.11. Asda offered the lowest price for 19 items and was exclusively cheapest for 13, whilst Sainsbury's had 11 cheapest prices with six of these exclusively cheapest.

Last time out Asda was just 11p cheaper than Sainsbury's but that was primarily down to just one promotion. This week Sainsbury's narrowed the gap due to a range of offers on products including the Young's basa fillets, Mr Kipling bakewell slices and Hula Hoops.

Asda actually had the most offers this week with 12, but eight of these were multibuy offers rather than direct savings. Morrisons had 11 deals, Sainsbury's and Tesco nine each and Waitrose eight.

Morrisons claimed third spot this week. Its £58.79 total was £1.68 more expensive than Asda. It had the lowest price for six lines and was exclusively cheapest for the Birds Eye petits pois, Heinz spaghetti and Linda McCartney mozzarella burgers.

Tesco came in fourth for the second week running and its £60.68 total was £3.57 more expensive than Asda's. In fact it was closer to the bottom than the top, just £1.88 cheaper than Waitrose.

At £62.56, Waitrose was £5.45 more expensive than Asda, albeit this was actually more competitive than usual. It had the lowest price for six lines and was exclusively cheapest for the Heinz Vegetable Cup Soup and Quorn chicken style pieces.